Download Image
Non-commercial use
All our images can be downloaded in high resolution from our website for non-commercial use (research/study, educational purposes, personal blogs and social media).
Would you like to use our images in a publication? Please mention our credit line: "Mauritshuis, The Hague."
Commercial use
Would you like to use our images for commercial purposes? We would be happy to discuss this with you. Please contact our marketing department at images@mauritshuis.nl.

Judith Leyster

Man Offering Money to a Young Woman
This painting is by one of the few women painters of the seventeenth century: Judith Leyster.
By the light of an oil lamp, a young woman is bowed over her needlework, with her feet on a foot warmer. A man is trying to attract her attention with a handful of coins – he wants to buy her love. But the woman does not respond to his offer, and works on undisturbed. She is a model of virtuousness.
Listen and discover more about this painting
Mauritshuis – general audio
More about Judith Leyster
Judith Leyster of Haarlem was a Dutch 17th-century artist. There were only a few female artists at that time, and she is the most famous. She was the first woman to be given the title of 'master painter' by the painters' guild. This meant that, like male artists, she could set up her own studio, train students and even sell her paintings.
Other female artists mainly painted still lifes, but Leyster was more ambitious. She liked to paint modern 'genre paintings', which showed household scenes. She did not paint them with fine details, but with a 'loose' technique. This was unusual, and Leyster was the only Dutch female artist who worked in this way at the time.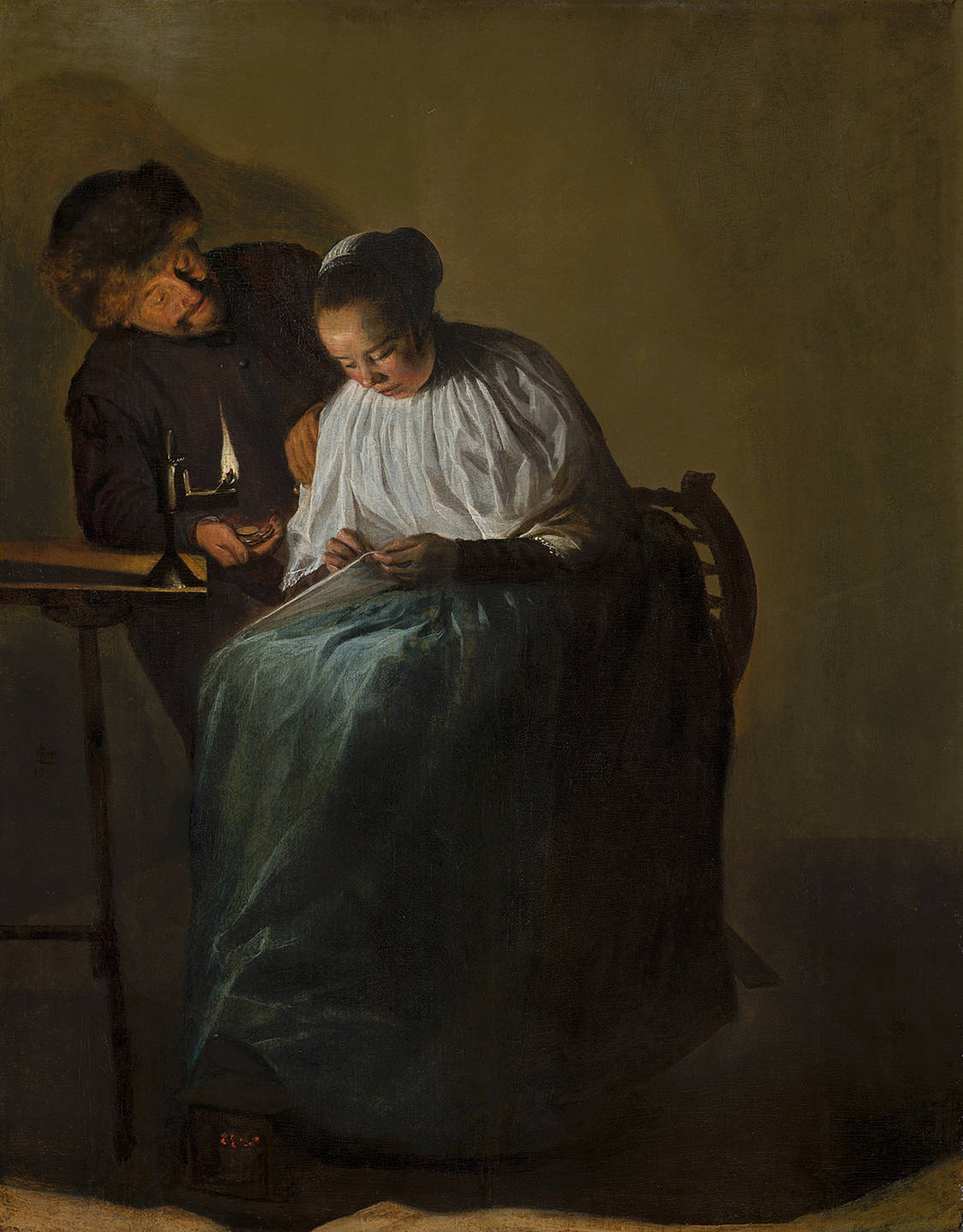 Women of the Mauritshuis
Move over Frans Hals, here comes Judith Leyster (1609-1660). We don't know who taught her (many think it was Frans Hals, as their styles are so similar), but by the age of twenty Leyster's paintings were already famous. Strangely enough, over the following centuries she was pretty much forgotten. How come? After she married Leyster painted much less. Perhaps that is why she was not included in Arnold Houbraken's book of great Dutch artists De groote schouburgh der Nederlantsche konstschilders en schilderessen (1718 - 1721). Houbraken simply didn't know she ever existed. His historical overview was a standard reference until well into the 19th century. Fortunately, art historian Cornelis Hofstede de Groot, who worked for the Mauritshuis, rediscovered Leyster in 1893.