Download Image
Non-commercial use
All our images can be downloaded in high resolution from our website for non-commercial use (research/study, educational purposes, personal blogs and social media).
Would you like to use our images in a publication? Please mention our credit line: "Mauritshuis, The Hague."
Commercial use
Would you like to use our images for commercial purposes? We would be happy to discuss this with you. Please contact our marketing department at images@mauritshuis.nl.

Carel Fabritius

The Goldfinch
A goldfinch is sitting on its feeder, chained by its foot. Goldfinches were popular pets, as they could be taught tricks like drawing water from a bowl with a miniature bucket.
This is one of the few works we know by Fabritius. He painted the goldfinch with clearly visible brushstrokes. He depicted the wing in thick yellow paint, which he scratched with the handle of his brush.
Listen and discover more about this painting
Mauritshuis – general audio
View the Mauritshuis with Your Ears
Discover the collection through stories
More about Carel Fabritius
Carel Fabritius was a Dutch 17th-century painter with a completely unique style. He painted portraits, still lifes, views of towns and cities and history paintings, often in bright colours and with clever lighting.
In 1654 Fabritius painted one of his most extraordinary pictures, The Goldfinch. It is a lifelike portrait of a little bird pictured against a white wall. That same year, at the age of 32, Fabritius was killed when a gunpowder warehouse exploded in Delft. As a result, he left behind a small but very varied body of work consisting of only 12 paintings, each one of which is a unique masterpiece.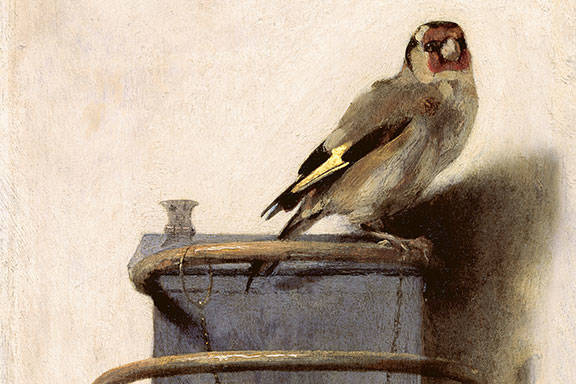 Het puttertje komt thuis
In 2016 was Het puttertje tijdelijk te zien in de Scottish National Gallery. Met deze video vierden we de terugkomst van het schilderij.
Are you looking for a special gift?
Are you looking for a special gift? Or are you yourself a fan of The Goldfinch by Carel Fabritius? Please visit our shop or have a look in our online shop. From tray to 3D card and from puzzle to card holder: there is something for everyone.