Frans Hals (1582/83 – 1666)
'A great genius, who painted with lively, confident brushstrokes'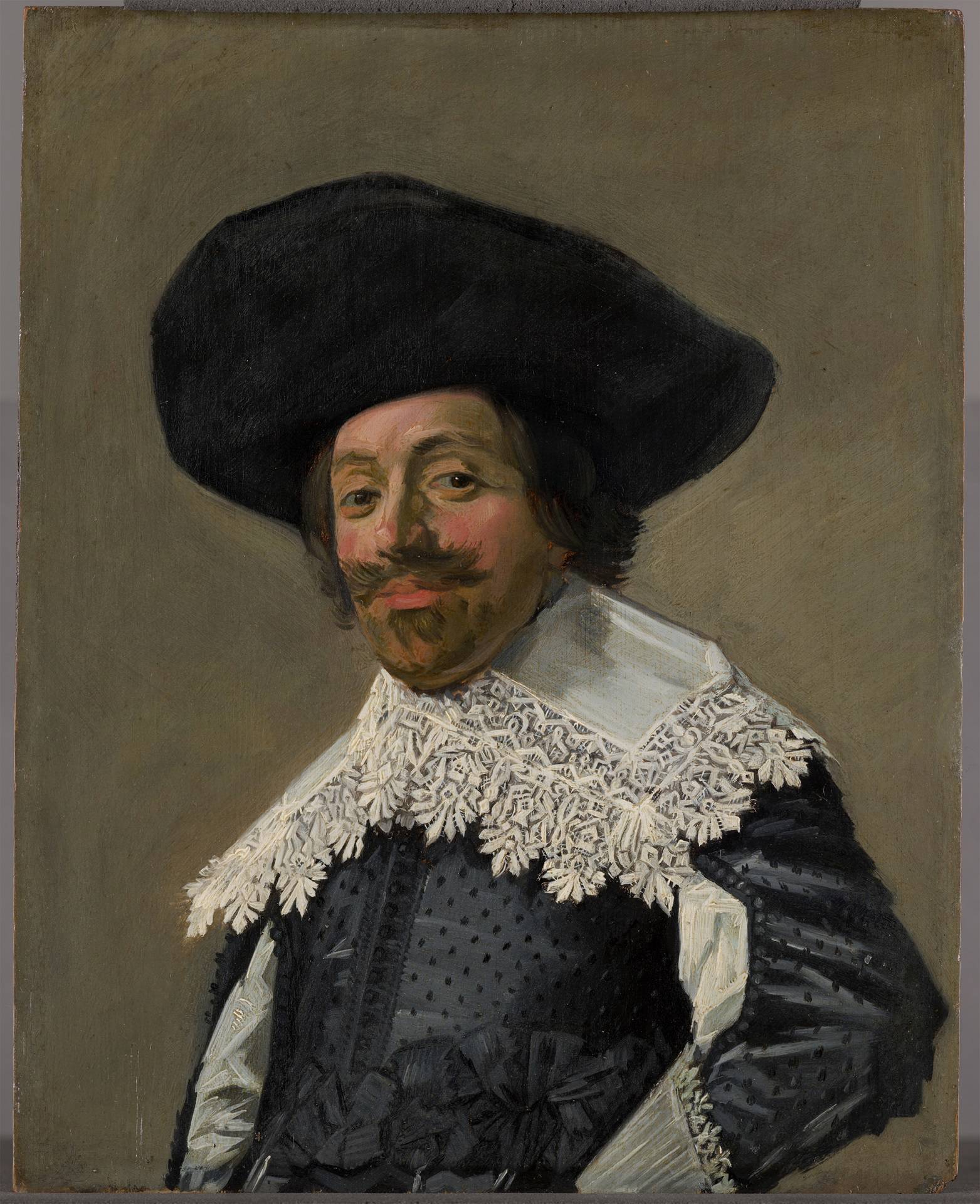 Frans Hals is one of the most famous and most extraordinary Dutch painters of the 17th century. He painted lively, sometimes even cheerful, portraits of people from all levels of society: important people, naughty children and even drunks or people who had been declared crazy. Hals had a unique ability to bring his paintings to life with colour and broad brushstrokes. His skillful style inspired the French impressionists, who made many copies of his paintings in the 19th century. 
Life in Haarlem
Hals was born in Antwerp, but his family moved to Haarlem when he was four. He was trained as a painter by artist and biographer Karel van Mander (1548-1606). Hals married twice and had fourteen children, but many of them died while they were still young.
With his unique style of painting, he had a great influence on other artists in Haarlem, like Judith Leyster (1609-1660) and Johannes Verspronck (1600-1662). Adriaen Brouwer (1605-1638), Adriaen van Ostade (1610-1685) and five of his sons trained with Hals.
Despite having many customers and receiving great praise for his work, Hals had money problems his whole life. After his death he was buried in a place of honour in St Bavo's Church in Haarlem.

Rough style
Hals is known for his playful technique, with lively brushstrokes that can clearly be seen. This makes it seem as if the subjects in his portraits are moving. He was already using this clever style in his early genre paintings, which show groups of people partying, and fishermen's children playing, for example. His portraits were more refined, although later he also painted these in a rough style. This was unusual, because rich people generally wanted a very elegant portrait. There were lots of portrait painters in Haarlem at the time, but Hals managed to stand out because of his unique, recognisable style. And so he became the most important painter of the Haarlem elite. He still received important painting jobs even when he was very old.

After his death, Hals' good reputation was almost completely destroyed. Biographer Arnold Houbraken (1660-1719) was negative about his loose style of painting in the book he published in 1718. He created the idea that Hals was a drunkard and a slob who refused to finish his paintings. Unfortunately, Houbraken's fans believed every word he said about Hals. It was not until 1868 that he was 'rediscovered' by French art critic Théophile Thoré (1807-1869). He described Hals as a great genius, who painted with lively, confident brushstrokes, and brought international attention to his work.

Life-size militia portraits
As well as painting individual portraits, Hals also made life-size group portraits of civic guards, or militias. These were armed citizens who kept the order in the city and defended it from attack. At that time, portraits of these militias would usually be quite stiff and boring. But Hals managed to portray the armed guards and officers in a very dynamic way. He showed them in different poses, although he always remembered to respect the hierarchy in the group. These huge, lifelike paintings must have been very impressive at the time. And they still are today.
Snapshot
Hals' paintings sometimes look like snapshots, photographs of a certain moment. This is because of the relaxed poses of the subjects, who would be singing, talking, or laughing for example. He liked to paint people turning back while sitting on a chair. He even painted a rich Haarlem merchant rocking on a chair.
This spontaneous feeling is made even stronger by Hals' quick painting style. It gives the impression that he made his paintings right there, working very quickly. But this is not in fact true. Hals painted in the traditional way, using several thin layers of paint on top of each other. And he painted his pictures in his studio. So even though they look like snapshots, they are not.
Master of the smile
Hals painted lots of people smiling or laughing, some of them with a shy smile, and others laughing out loud. He sometimes even painted rich customers with a little smile. This was unusual at that time. In the 17th century people preferred to have their portrait painted looking grand and serious. A smile is also difficult to paint, because it easily looks unnatural. But Hals was a master of the smile, and could paint them better than anyone else.
Hals also painted lots of laughing children. These paintings were known as 'kindertronies'. Artists would paint 'tronies' to experiment with illustrating a certain emotion or expression. Hals had a big family, so there was always a model around for him to paint.

Discover more about the paintings from Hals in the Mauritshuis