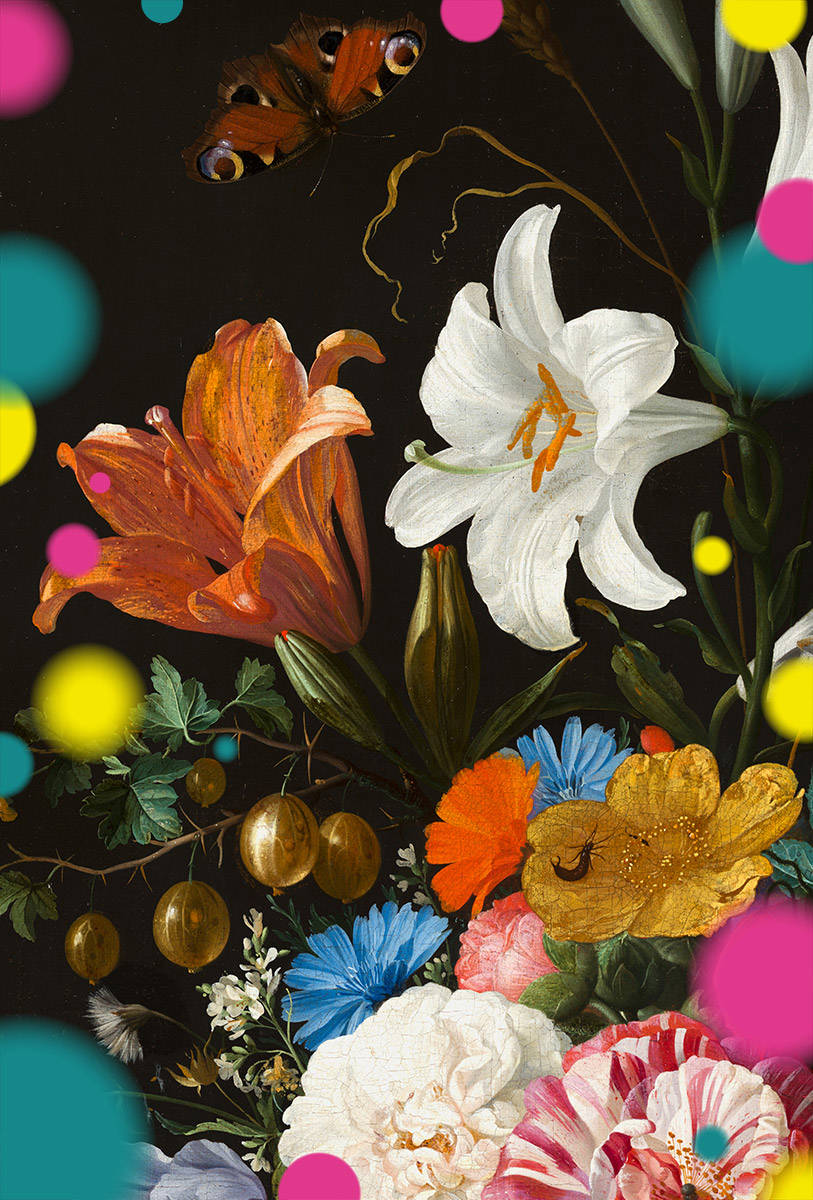 10 February 2022 - 6 June 2022
This year we're celebrating our 200th birthday in grand style and treating you to the most beautiful flower still lifes of the seventeenth century. The flower still life flourished during this period: from 'impossible' imagined bouquets to richly decorated spectacle pieces. All equally breathtaking, a feast of colour, with lots of tiny creepy crawlies and largely painted by women artists.
The exhibition In Full Bloom takes you on a voyage of discovery through the flower still-life genre. Where did the sudden interest in flower still lifes in the seventeenth century stem from? Why was it that so many women excelled in this genre, and what was the role of science? Welcome to the vibrant world of the flower still life and botany!
About the Exhibition
Colourful flowers. It seems like an obvious subject in art, doesn't it? But remarkably enough, few painters focused on it in the late sixteenth century. It was only after 1600 that the flower still-life genre really flourished. Cheerful bouquets and exotic blooms are characteristic of the genre, as are meticulous detail, scarcity and variation. Where did this sudden interest in flower still lifes come from? How did talented women artists and researchers gain international fame? And what was the role of science in all of this?
Flower still-life art, botany and women artists take centre stage in the exhibition In Full Bloom. You'll find out all about the development of the flower still life (why didn't flowers play a leading role in art far earlier?) and how art, nature and science go hand in hand. An exhibition with something for everyone: magnificent flowers, science, nature and talented women.

A sustainable design
It's not just the paintings stealing the show in this exhibition: a unique, sustainable solution has been chosen for the walls in the exhibition room. They are made from flower waste from the bulb industry. The flowers are pressed into the material so that the structure of the leaves is visible.

The best selfie spot in The Hague
Flowers, flowers and more flowers! To coincide with the opening of the exhibition In Full Bloom, the museum's façade will be transformed into a sea of flowers. Inspired by Jan Davidsz de Heem's Vase with Flowers, the Mauritshuis will be adorned with (sustainable) imitation flowers throughout the year. More will be added every few weeks until our building is hidden behind the 'impossible' bouquet. Will you be coming to take your selfie on our forecourt?

With thanks to
In Full Bloom is made possible with the support of the Friends of the Mauritshuis Foundation, Prins Bernhard Cultuurfonds, Fonds 21, Zabawas Foundation and the M.A.O.C. Gravin van Bylandt Foundation.
And with the support of our main partners the Friends Lottery and NN Group.