Groups and Guided Tours
Take a tour of the museum with our tour guides

Get to know the Mauritshuis in a very personal way: take a tour of the museum with friends, family or colleagues, accompanied by one of our tour guides.
The tour guides would be happy to tell you more about our paintings. They will point out special details and reveal hidden stories. They will talk about restorations and the jokes that painters sometimes hid in their works. Our tour guides also like to hear what you like, what you want to know more about, and are always happy to adapt their stories.
Guided Tours in the Mauritshuis
You can take different types of tours in our museum: both digital and in person.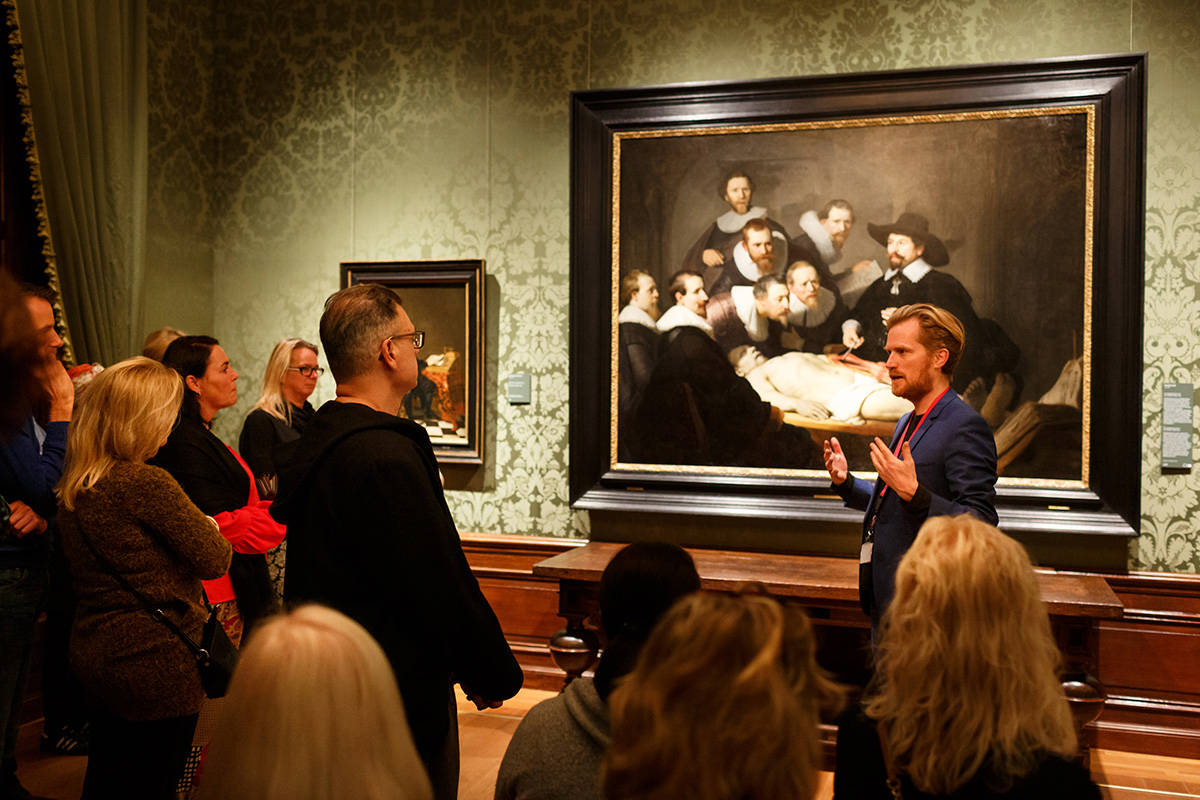 Guided tour for your own group
Would you like to take a tour with a group of friends, family or colleagues? All you have to do is book your own tour. Please use the form to let us know your wishes. How big is your group? Have you been to the Mauritshuis before? Are there any special topics you would like to learn more about? If so, our planners will contact you to schedule the tour.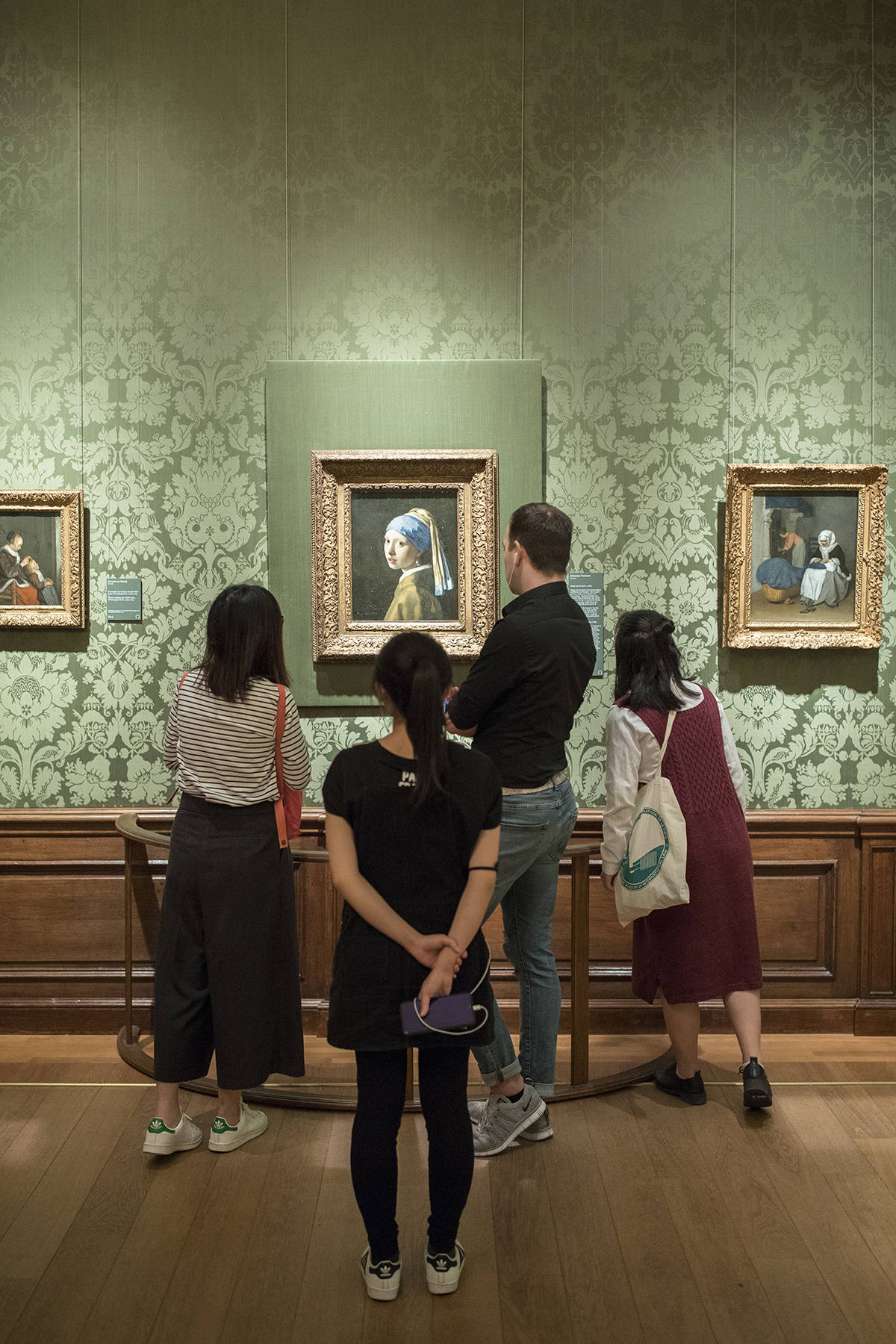 Virtual Tours
You can also enjoy one of our online guided tours. We have digitally photographed the entire Mauritshuis. So now you can 'walk' through the Mauritshuis from the comfort of your home via your computer or tablet. This enables everyone in a group to participate in the tour from their own computer. In fact, these online tours offer you an even closer look at our works.

Costs
The price of a tour is € 100. This is irrespective of the size of the group; whether it consists of two or 15 people.
Moreover, everyone in the group will also need a ticket for the Mauritshuis. This could be an ordinary entry ticket, but Museum Cards, BankGiro Loterij VIP Cards, and other discount cards are also valid, of course.
Does your group consist of at least 15 people without discount vouchers? If so, you can enjoy the benefit of a group discount.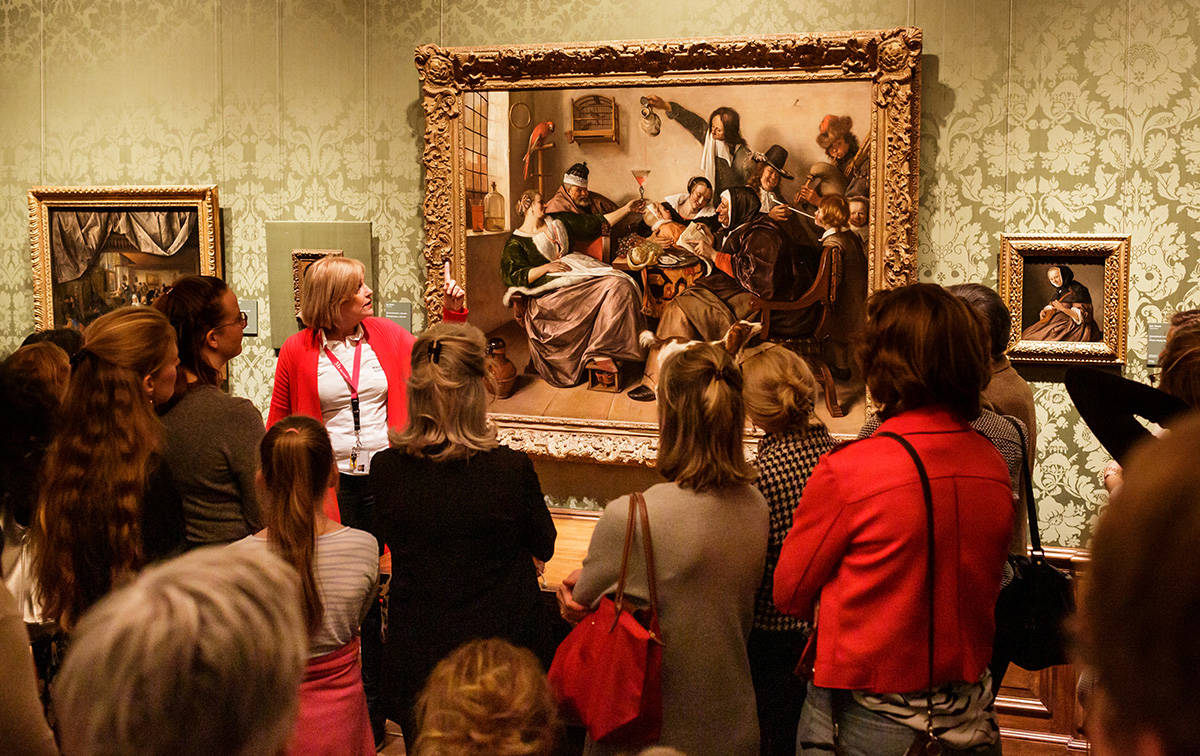 Topics
The most frequently chosen themes for a guided tour are our Highlights Tour and tours of the temporary exhibition. But we also like to think along with you about other themes; for example, women in painting, hidden stories, or restorations. Or anything else that suits your group's interests. And don't forget: you can also visit our Prince William V Gallery with a tour guide.
It is also possible to arrange a combined tour of the permanent collection and the exhibition. In that case, it's a good idea to extend the duration of the tour to 1.5 hours. The price of a full guided tour is € 150.

Good to know:
Book your tour at least three weeks in advance. That way, we will be able to arrange a tour guide for you in good time.
Guided tours can start daily between 10.30 and 16.30 hours (Monday between 13.30 and 16.30 hours).
We offer tours in Dutch, English, Chinese, German, French, Italian, Norwegian, Russian, Spanish and Turkish.
A tour guide can accompany a maximum of 15 guests. Is your group bigger? If so, we could split the group between two (or more) tour guides.
You will be required to pay for the tour at the box office in the museum before your visit. We will scan all your discount vouchers there and then. Would you prefer to pay by invoice? That's possible. But please notify our planners in advance.
Do you need to adjust or cancel your tour? Please do so at least five days in advance.
Accessible Programming
Guided tours for guests with dementia and their supervisors/attendants
We offer the 'Unforgettable Mauritshuis' tour especially for people with dementia and their loved ones. These tours are offered monthly as a walk-in tour. Would you prefer to take an 'Unforgettable Mauritshuis' tour with your own group? That's obviously also possible.
Please make your reservation via onvergetelijk@mauritshuis.nl.
Practise the Dutch language
Practise the Dutch language surrounded by paintings in the Mauritshuis. That's exactly what happens on the NT2 tours. You can enjoy the most beautiful paintings with your tour guide. That way, you will discover what it was like to live in the Netherlands in the 17th century. You will practice the Dutch language while exploring and learning about topics such as clothing, family and food from then to now.
Please book your NT2 guided tour via mail@mauritshuis.nl.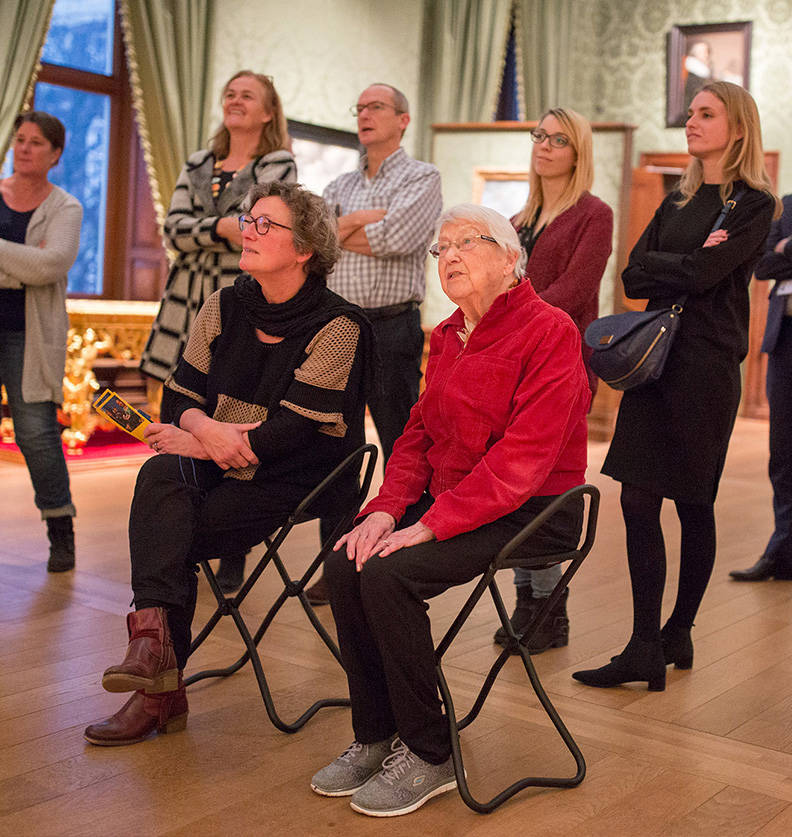 Guided Tours for Schools
The best way to discover art, as a student, is to encounter it face to face. The Mauritshuis is therefore the museum par excellence for CKV students.
Each artwork tells its own unique story: What makes Girl with a Pearl Earring so special? And how did Rembrandt, Vermeer, and Jan Steen actually become so famous? Why are so many people depicted in the nude? No question is too crazy, no answer is skipped, all the secrets of the masters are unravelled.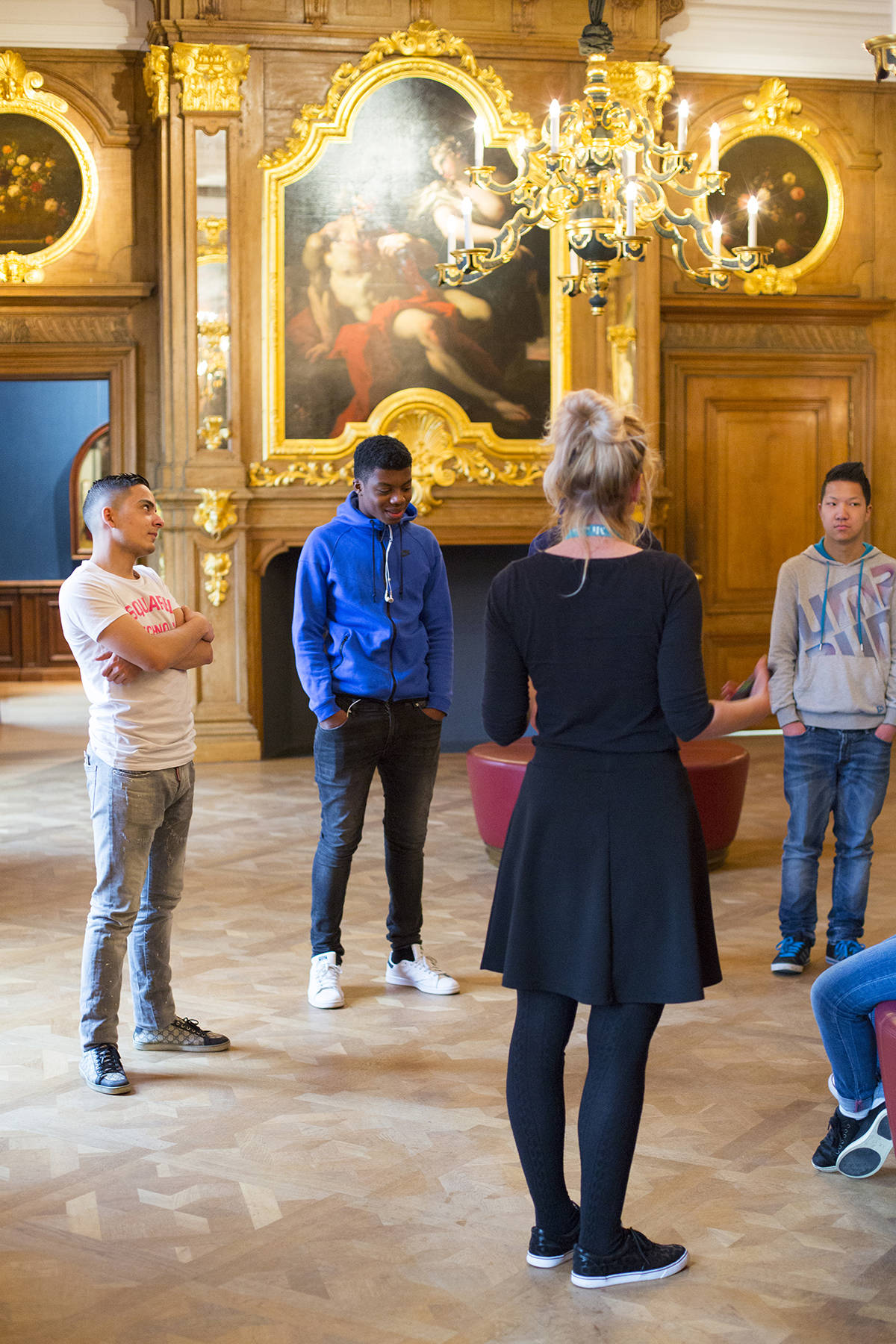 Guide your own group
Would you like to personally guide a group through the Mauritshuis? That's possible with groups of up to 15 guests. Just let us know when you would like to come by. That way, we can take your group into account when planning other tours. It's important to make a reservation, as we will always give priority to reserved groups. Which means that you may have to wait.
Does your group consist of at least 15 people without discount vouchers? If so, you can enjoy the benefit of a group discount.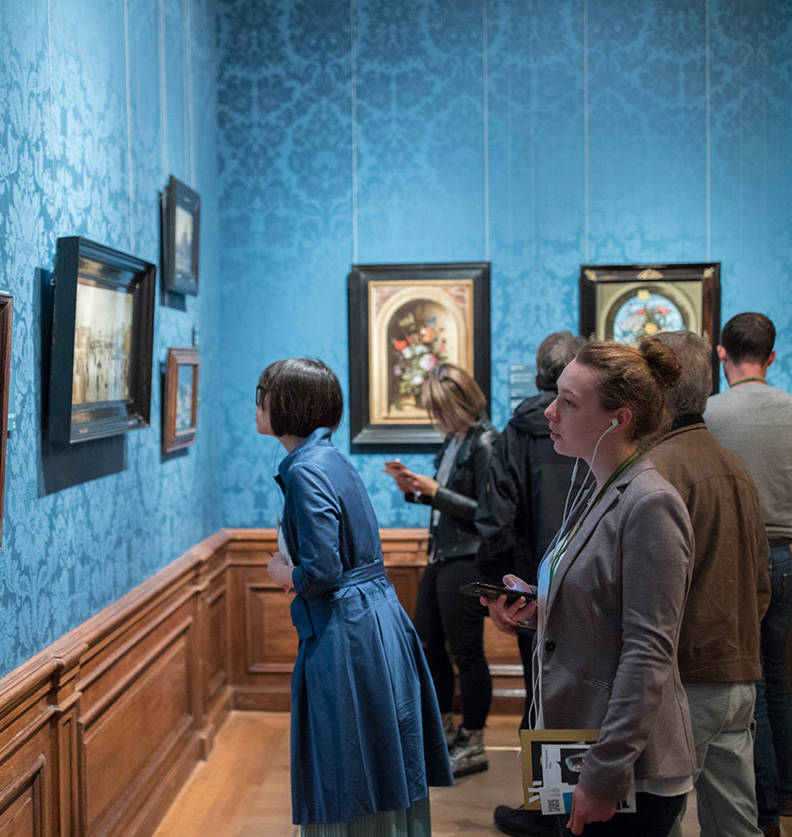 Contact
Would you like to make a reservation? Or do you need more information? One of our employees would be happy to assist you at mail@mauritshuis.nl or via +31 (0)70 302 3456.