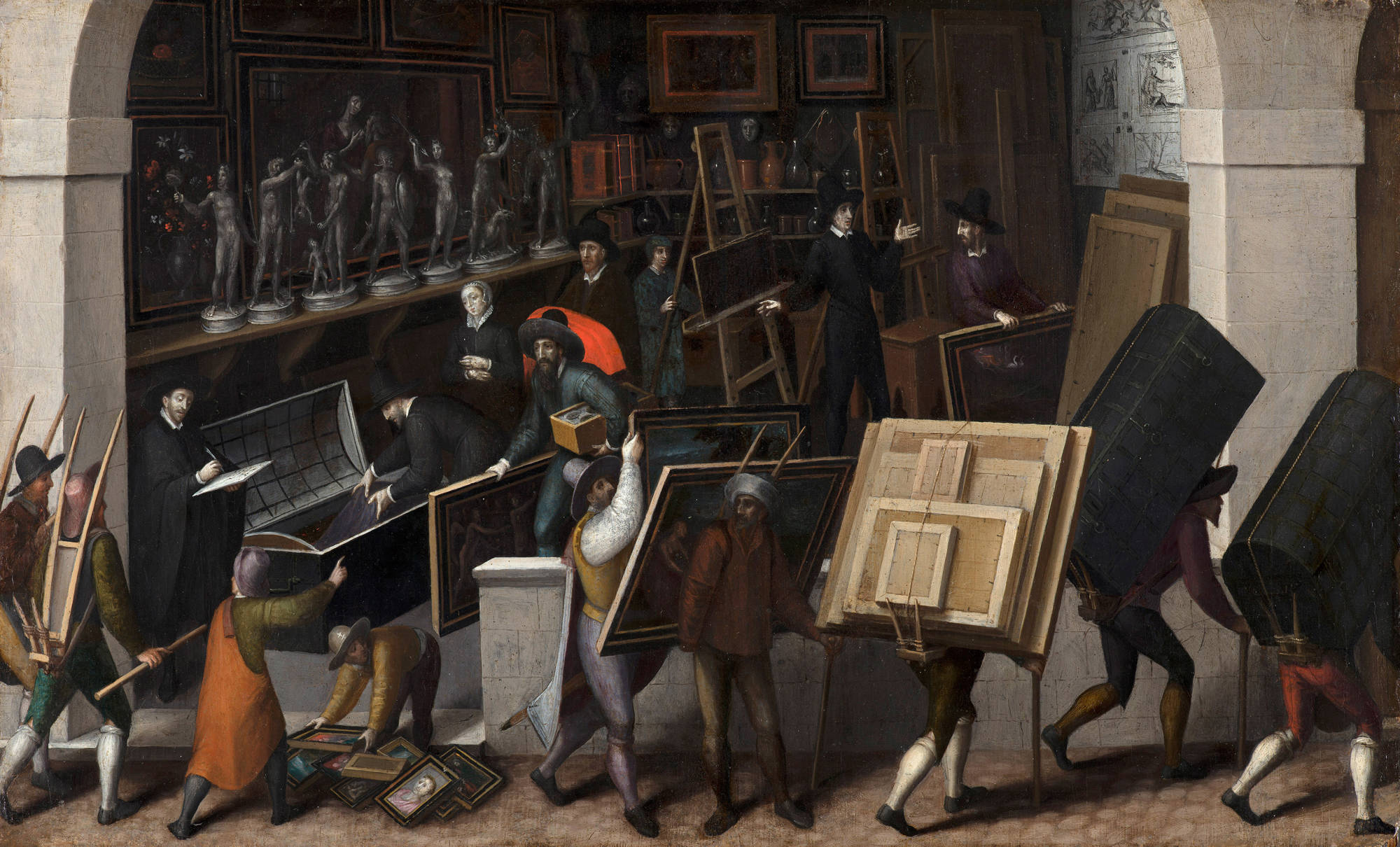 What is looted art?
How do stolen paintings end up at the Mauritshuis? And shouldn't they be returned, or is this more complicated than it seems at first glance?
Narrated by

Karwan Fatah-Black
Historian of colonial and slavery history

Madeleine Maatstap
Museum educator


Emile Schrijver
General Director Jewish Cultural Quarter
Looted art is art stolen in a context of violence. Often during wars, such as the French Revolutionary Wars or World War II, and during colonialism. To show how powerful they were, colonisers and warlords robbed societies of their art treasures.
Most of that art ended up in European museums, where today they don't really know what to do with it. Then give it back, you might say. But that is easier said than done.
Sometimes it is impossible to find out who the owner was. Sometimes an object has been sold, bartered or given away by force. In this story, we look for all these forms of looted art.
Quiz
What do you already know about looted art? Before we go in-depth, we'll ask you a few questions to test your knowledge.
You'll be given five multiple-choice questions. Always indicate which answer you think is correct.
Ready?

Start the quiz
Test your knowledge in 5 questions

question 1 of 5
What is looted art?

question 2 of 5
Can a gift be looted art?

question 3 of 5
Does the Netherlands have looted art?

question 4 of 5
How do you recover looted art?

question 5 of 5
Should museums return looted art?

question

1

of 5
Well done
Impressive


You knew of the 5 questions.

And, did your score please you or disappoint you?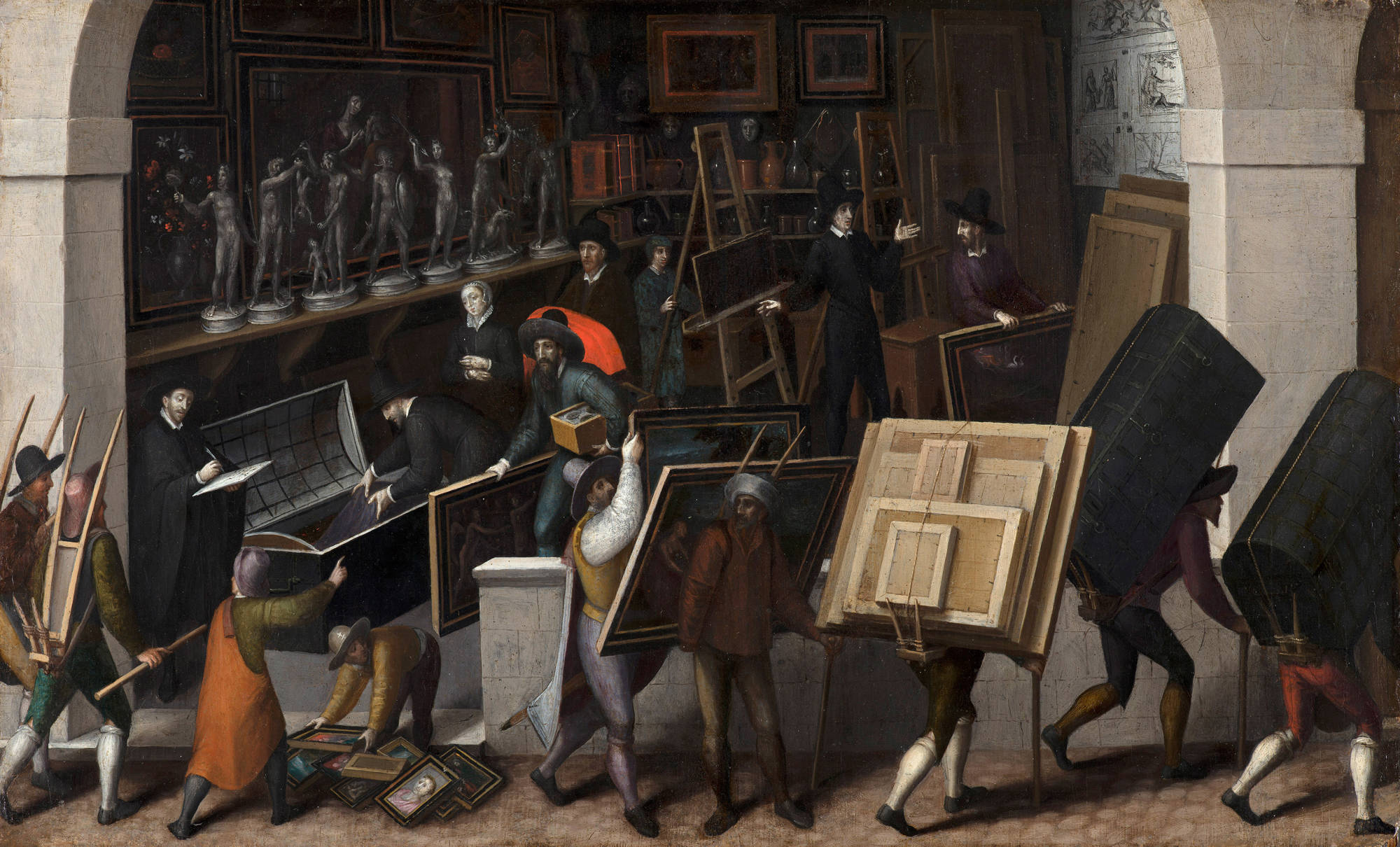 The bull
In 1795, Paulus Potter's The Bull (1647) was stolen by French troops along with some two hundred other paintings. By then, the Netherlands had been at war with France for two years and losing. As war loot, the French took Stadholder William V's collection of paintings to France.
That collection includes The Bull, which ends up in the Louvre (then called Musée Napoléon) in Paris. The French were hugely impressed by the realism of The Bull.
Only in 1815, after Napoleon is defeated at the Battle of Waterloo, the stolen paintings returned to the Netherlands.

The start of the Mauritshuis
The birth of the Mauritshuis is directly linked to looted art. Here's why: after the fall of Napoleon, Dutch soldiers managed to get two-thirds of the looted paintings from Stadholder William V's collection back to the Netherlands. This wasn't easy, as France was keen to keep the paintings. Therefore, all ladders were hidden in the Louvre. Even without ladders, the soldiers got the paintings off the wall. In a triumphal procession, they were brought back to the Netherlands.
With those paintings, the Mauritshuis started as a museum in 1822. Earthly Paradise with the Fall of Adam and Eve (1615) is one of them.

Nazi loot
During the persecution of Jews in World War II, the Nazis took art away from Jewish owners on a large scale. Sometimes through confiscation or sale, usually just by stealing it.
The Portrait of Jakob Omphalius (1500-1567, originally a double portrait) is an example of that. This portrait was owned by the Jewish Von Goldschmidt-Rothschild family, but was looted in 1938.
Why did the Nazis do this? And why is it so important to return this art to its original owners?

Rembrandt's self-portrait
Rembrandt's last self-portrait from 1669 is one of the Mauritshuis' best-known paintings.
Less well known is that this painting was once a kilometre deep underground. Along with over 6000 other works of art, including the Mystic Lamb by the Van Eyck brothers and Vermeer's The Astronomer.
The paintings sat in an old salt mine of the alpine village of Altaussee in Austria, far from civilisation. Behind the rubble of a collapsed tunnel was one of the most prestigious art collections ever assembled.
What were those paintings doing there? And how did Rembrandt's Self-Portrait ended up in the Mauritshuis?

The NK collection
Near Nicolaes Berchem's Allegory of Summer (1670) hangs a sign saying 'NK Collection'. If you're at the Mauritshuis, you should take notice. There are twenty-five paintings that have such a sign.
It means the painting is part of the Netherlands Art Property Collection, a government-managed collection. This includes artworks looted, confiscated or forcibly sold to the Nazis during World War II and returned to the Netherlands after the war.
The paintings that could not be returned to their Jewish owners ended up in the NK Collection.
Mary Stuart's cloak
This 1664 painting by Adriaen Hanneman shows a servant, about whom we know almost nothing, and a princess about whom we know a great deal.
The princess is the English Mary Stuart, wife of Dutch stadholder William II and mother of the later king William III. The latter had this portrait made after she died.
She's wearing a striking feather cloak over her white dress. This is because she is going to a costume ball. The red feathers come from Brazil. Traditionally, the natives of Brazil wore this kind of cloak at important ceremonies. How did Mary Stuart get such a special cloak?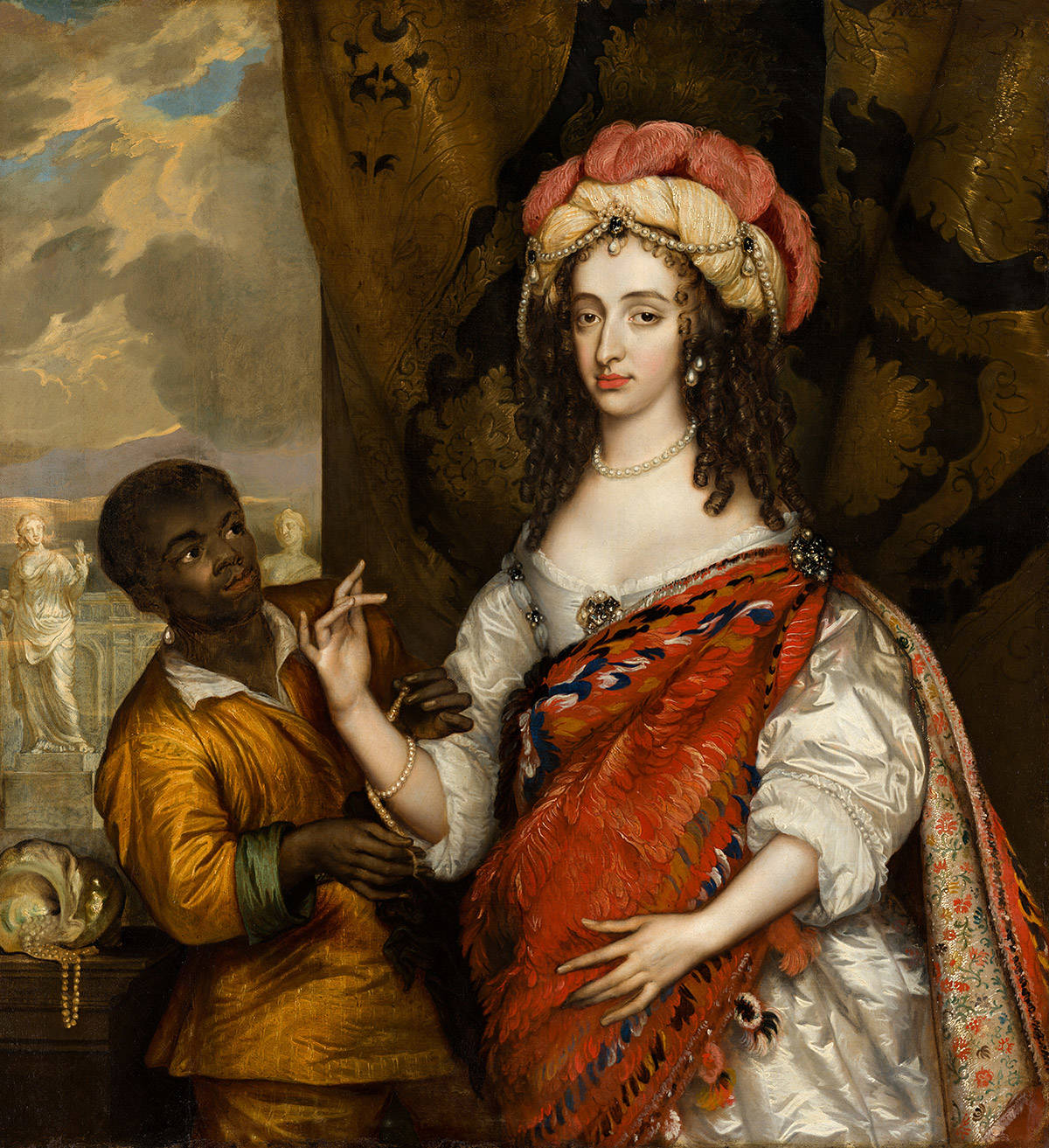 More looted art
In short, looted art goes beyond art that was once stolen. Its history continues to work today. Provenance investigations and restitution processes are complex and can sometimes take years.
Want to know more about looted art? Then visit our exhibition Loot - 10 stories. In it, we use virtual reality to tell you more about colonial looted art, art theft by the French revolutionaries and Nazi looted art.
What would happen if all objects were returned to their rightful owners?