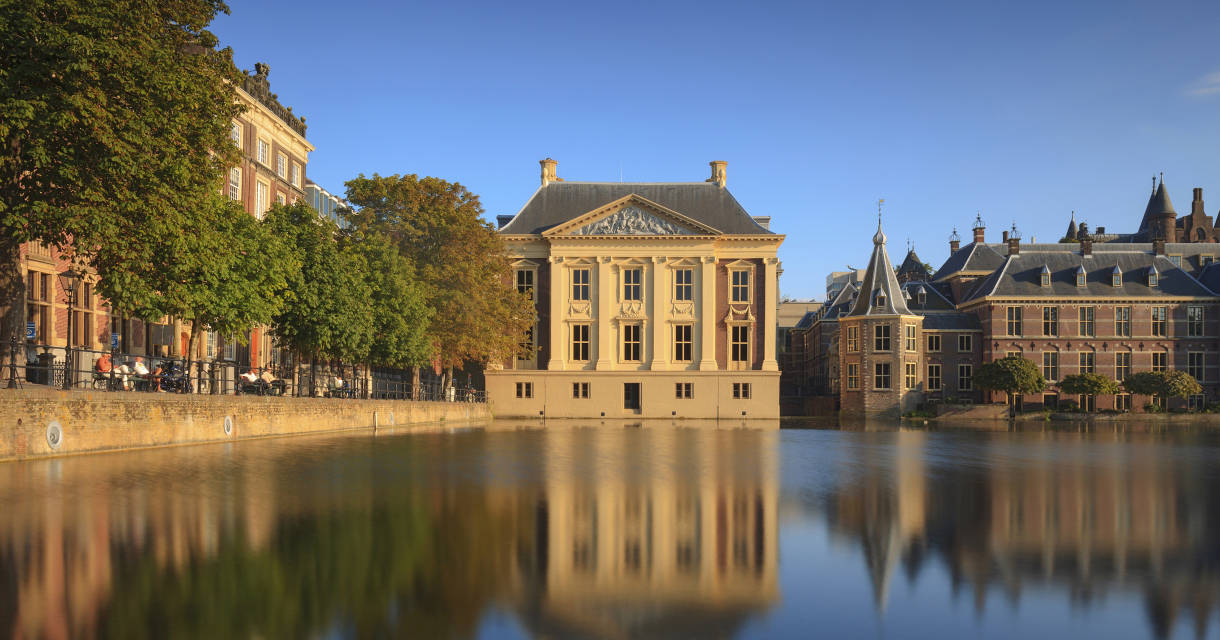 Welcome Tour Operators and Travel Trade colleagues! The Mauritshuis Museum is an enchanting city palace with the very best of 17th-century Dutch painting. A small, world-class museum that will enrich you in energy and stories.
Discover the Mauritshuis
There's a jewel of a museum in the centre of The Hague that begs discovery: the Mauritshuis.
The museum, which is located in a monumental building, offers the very best in Dutch painting: Rembrandt, Vermeer, Rubens, Hals, and Steen.
Our world-famous collection consists of masterpieces, such as Vermeer's Girl with a Pearl Earring, The Anatomy Lesson of Dr Nicolaes Tulp by Rembrandt, The Goldfinch by Fabritius and The Bull by Potter. New public favourites include still lifes by two female painters, Peeters and Ruysch; a rare phenomenon in those days.
These and many other paintings from the 17th century can be admired in our palatial museum rooms, replete with chandeliers and ceiling paintings. The Mauritshuis is an attractive and unique option for tour operators, and only a stone's throw away from Amsterdam and Rotterdam.
The nearby Prince William V Gallery, where the Mauritshuis collection began, in 1774, is also well worth a visit.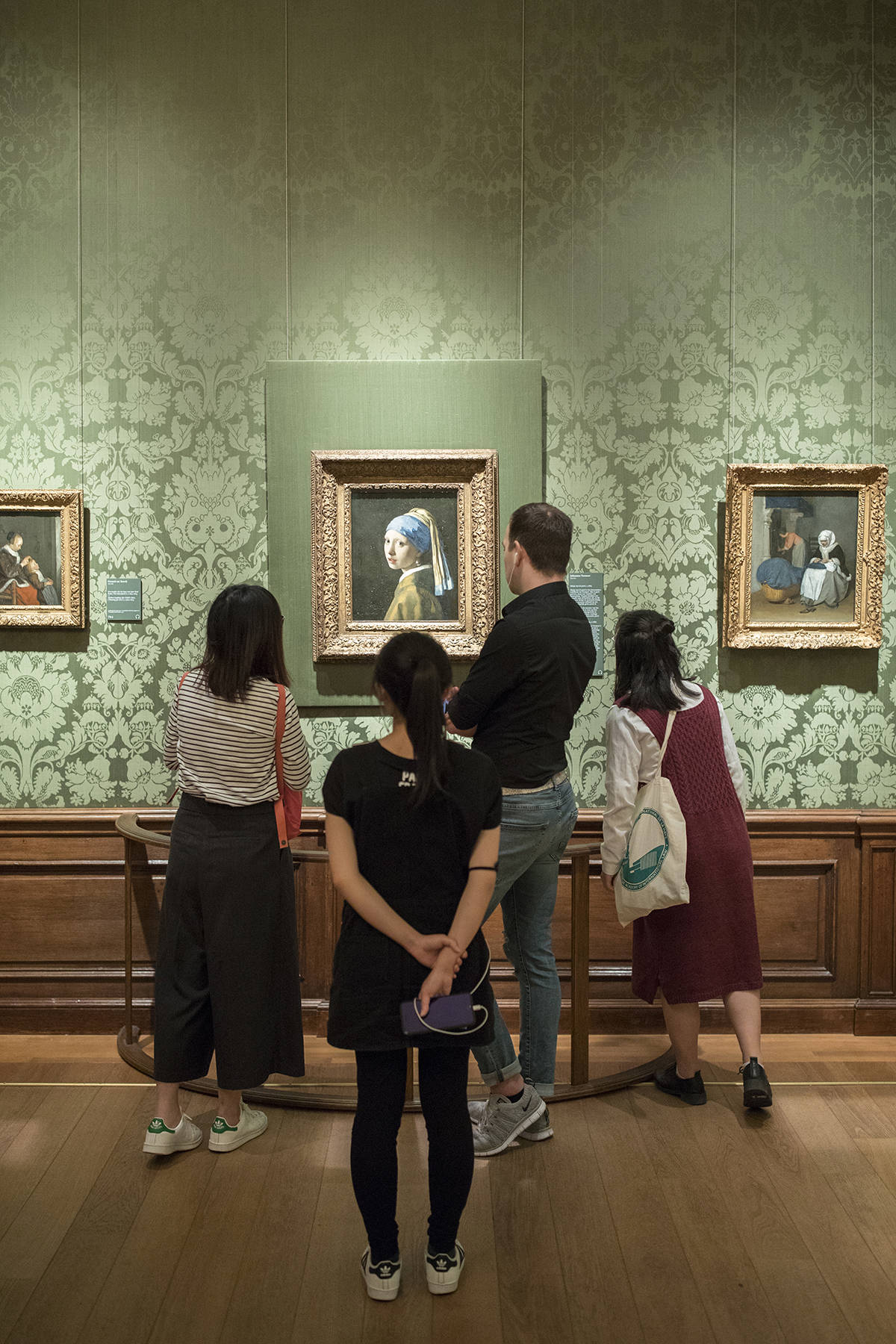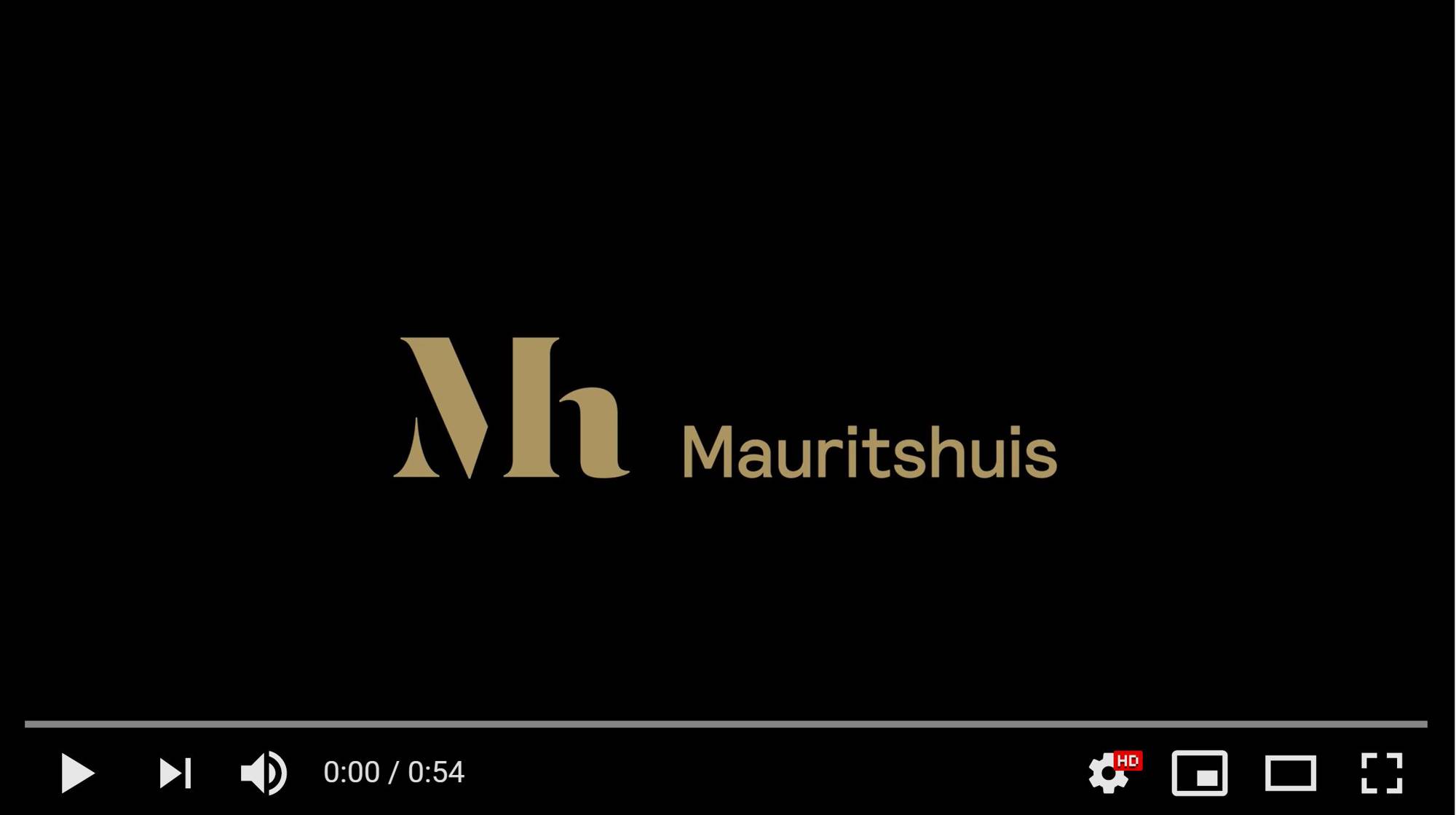 Please come and discover the Mauritshuis for yourself!
Stand face to face with Vermeer's Girl with a Pearl Earring.
And experience no fewer than 11 paintings by Rembrandt.
Imagine yourself in another world in this 17th-century city palace.
Visit the museum in approximately one to one-and-a-half hours.
Our museum is conveniently located in the city centre of The Hague, adjacent to the medieval Binnenhof.
The Mauritshuis is only 45 minutes away from Amsterdam, Schiphol and Rotterdam.
Easily accessible by public transport, car and touringcar.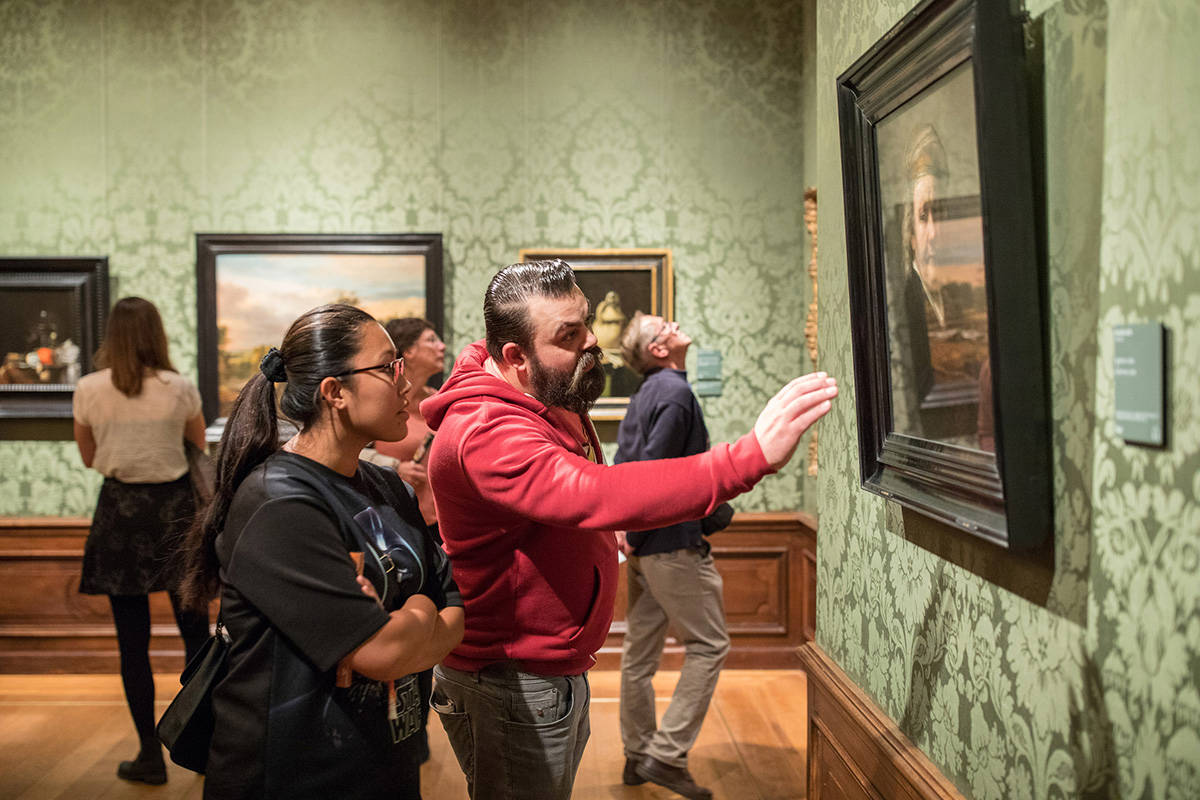 Collaboration
A city like The Hague - full of rich history and located between Amsterdam and Rotterdam - is the perfect destination for a day trip. The Hague brings together the past, present and future, nature and culture, and bustle and peace. We highly recommend the Mauritshuis to visitors from all over the world as a museum where they can enjoy world-famous masterpieces.
In 2019, we welcomed almost half a million national and international visitors to our museum. We owe this high number of visitors to our pleasant service, as well as the excellent cooperation with tour operators, OTAs and DMCs. We are always open to new partnerships and collaborations. In this way, we hope to introduce as many people as possible to our 'Triple AAA' collection.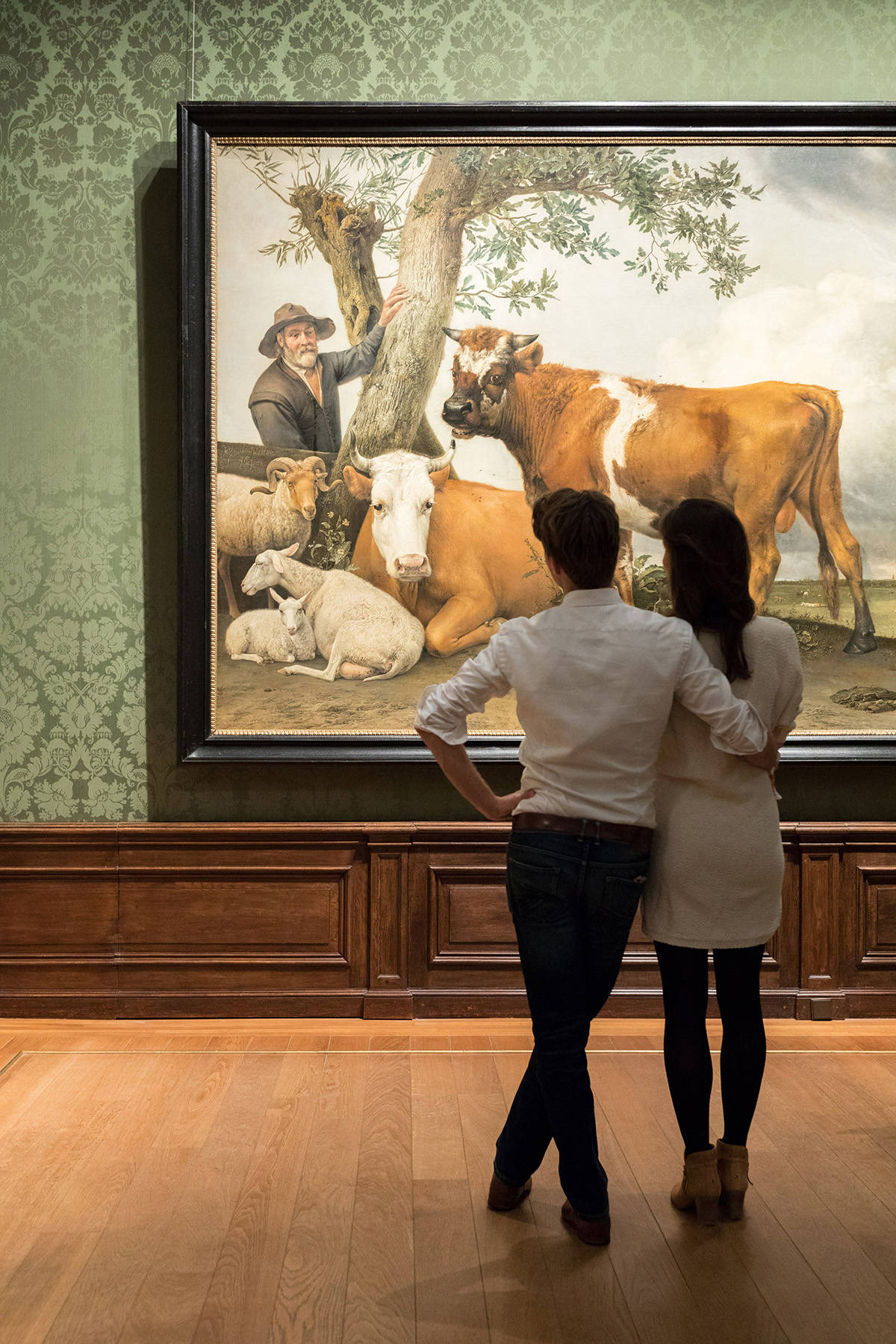 Voucher Agreement
Our voucher agreement offers many advantages. This is obviously also an option for tour operators at the Mauritshuis. It makes your visit to the Mauritshuis exclusive, affordable and easy. We ask tour operators to provide at least 1,200 visitors a year to qualify for a voucher agreement.
Our voucher agreement offers the following benefits:
Special rates
Free entry for one guide per 15 visitors
The option of a private tour guide
Prior reservation of a visit
The invoice will be issued after your visit
Groups are obviously also very welcome, even if the minimum number of visitors cannot be met. We are always ready to help you make your wishes come true.
For more detailed information or collaboration, please contact us at +31 (0)70 302 3435 or trade@mauritshuis.nl.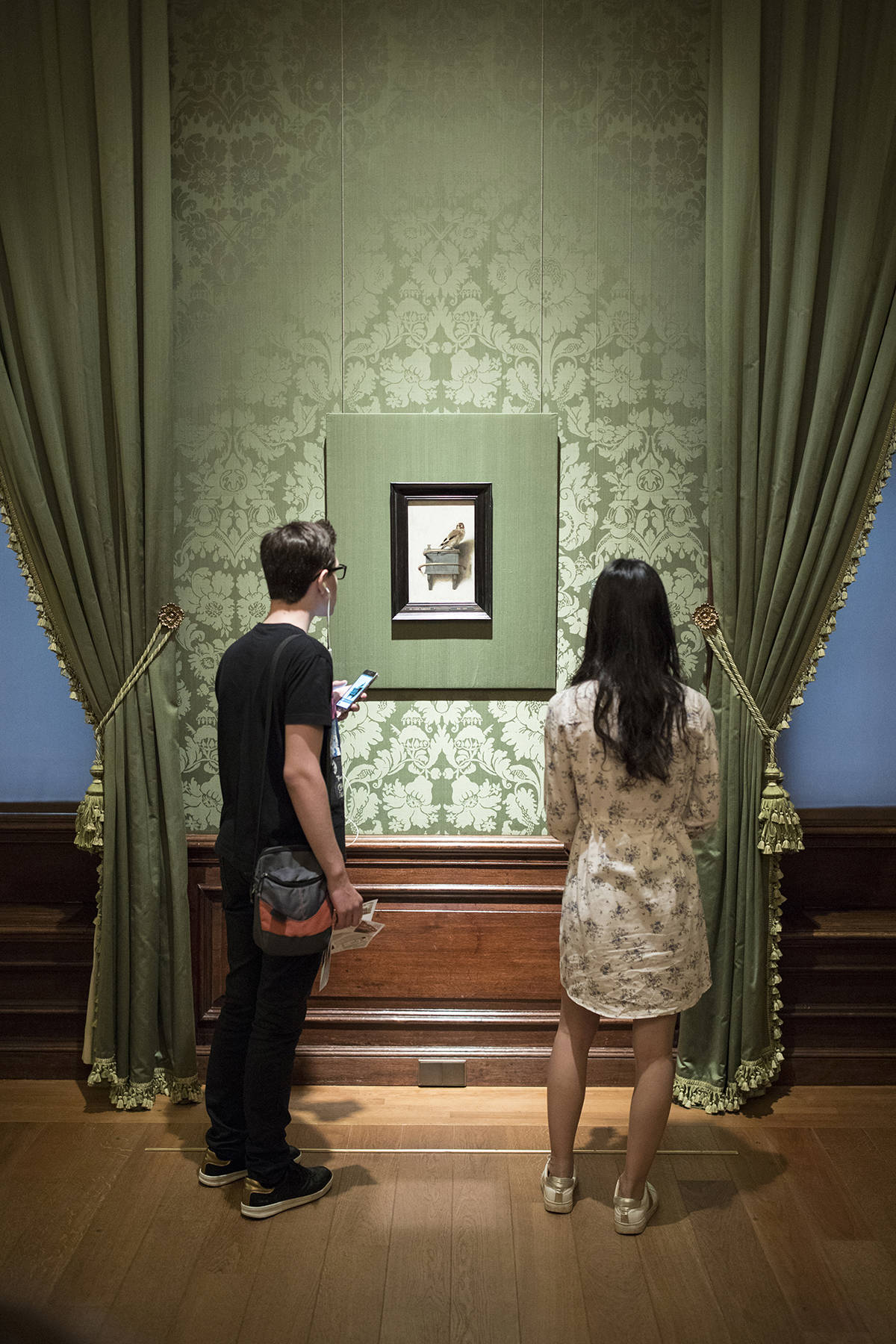 OTA – Free Independent Travel (FIT) agreement
FIT sales partners can sell tickets with a start time directly via an API connection. For more detailed information or for a collaboration, please contact us at +31 (0)70 302 3435 or trade@mauritshuis.nl.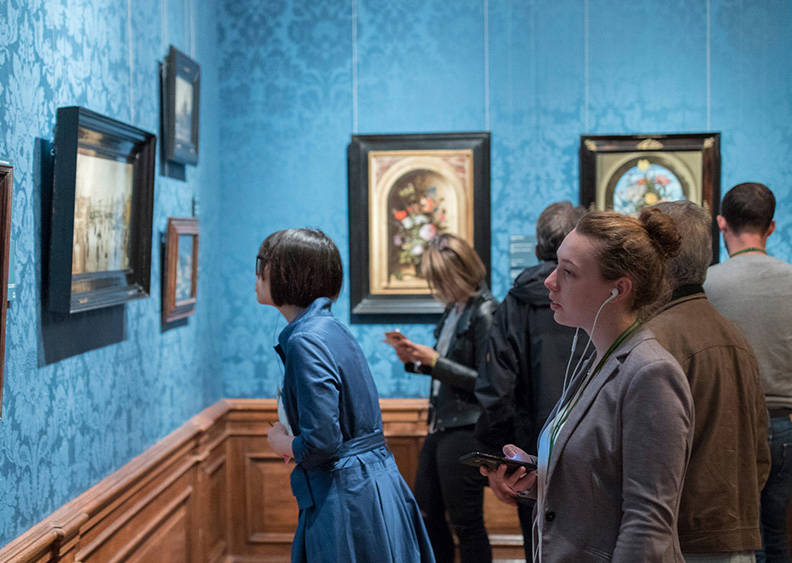 Our Exhibitions
In addition to the permanent collection of world-famous works of art, we also organise temporary exhibitions throughout the year. That way, the Mauritshuis remains a place for inspiration, discovery and admiration.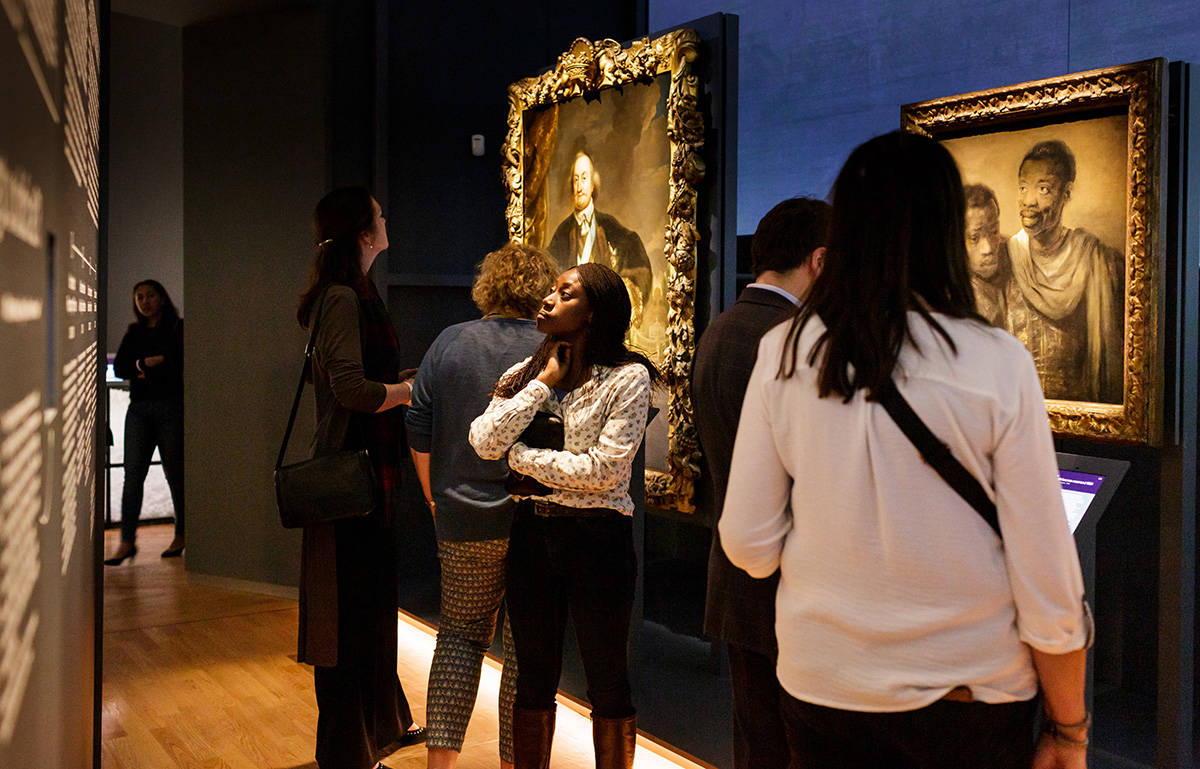 Image Bank
Would you like to find out more about the Mauritshuis, the Prince William V Gallery and our collection? Then why not take a look at our image bank?
You can download high-resolution images free of charge from this archive. Please make sure that the correct credit lines are transferred when using it. The images may not be used for commercial purposes.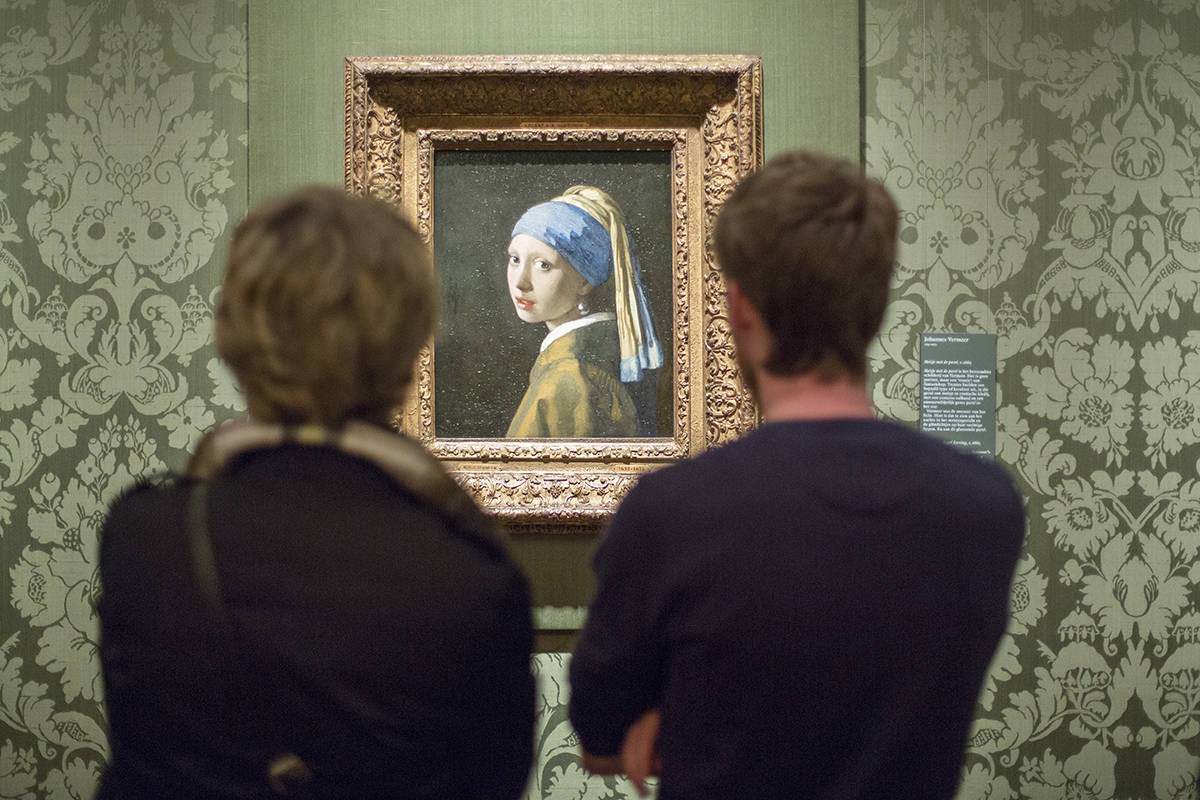 Brasserie Mauritshuis
Brasserie Mauritshuis is the perfect place to enjoy culinary works of art before, during or after a visit to the Mauritshuis. We offer tour operator groups exclusive packages of contemporary dishes that are mainly prepared with local ingredients. The menu is inspired by the works of art in the museum.
We can accommodate groups of up to 30 people in Brasserie Mauritshuis. Would you be interested in an exclusive package? If so, please contact us at +31(0) 70 302 3435 or by email at trade@mauritshuis.nl.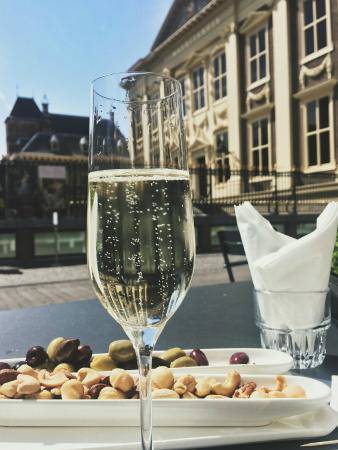 Practical information
Mauritshuis app
You'll be amazed by the Mauritshuis. Your visit to the Mauritshuis will be even more entertaining and educational with our free Mauritshuis app. You can use the app to take a number of different tours through the museum, or decide for yourself what you want to know about each painting.
The Mauritshuis app can be downloaded for free from the App Store and Google Play. The app is available in Dutch and English.
A tour of the highlights of our collection is also available in German, French, Spanish, Italian, Portuguese, Russian, Chinese (Mandarin), and Japanese.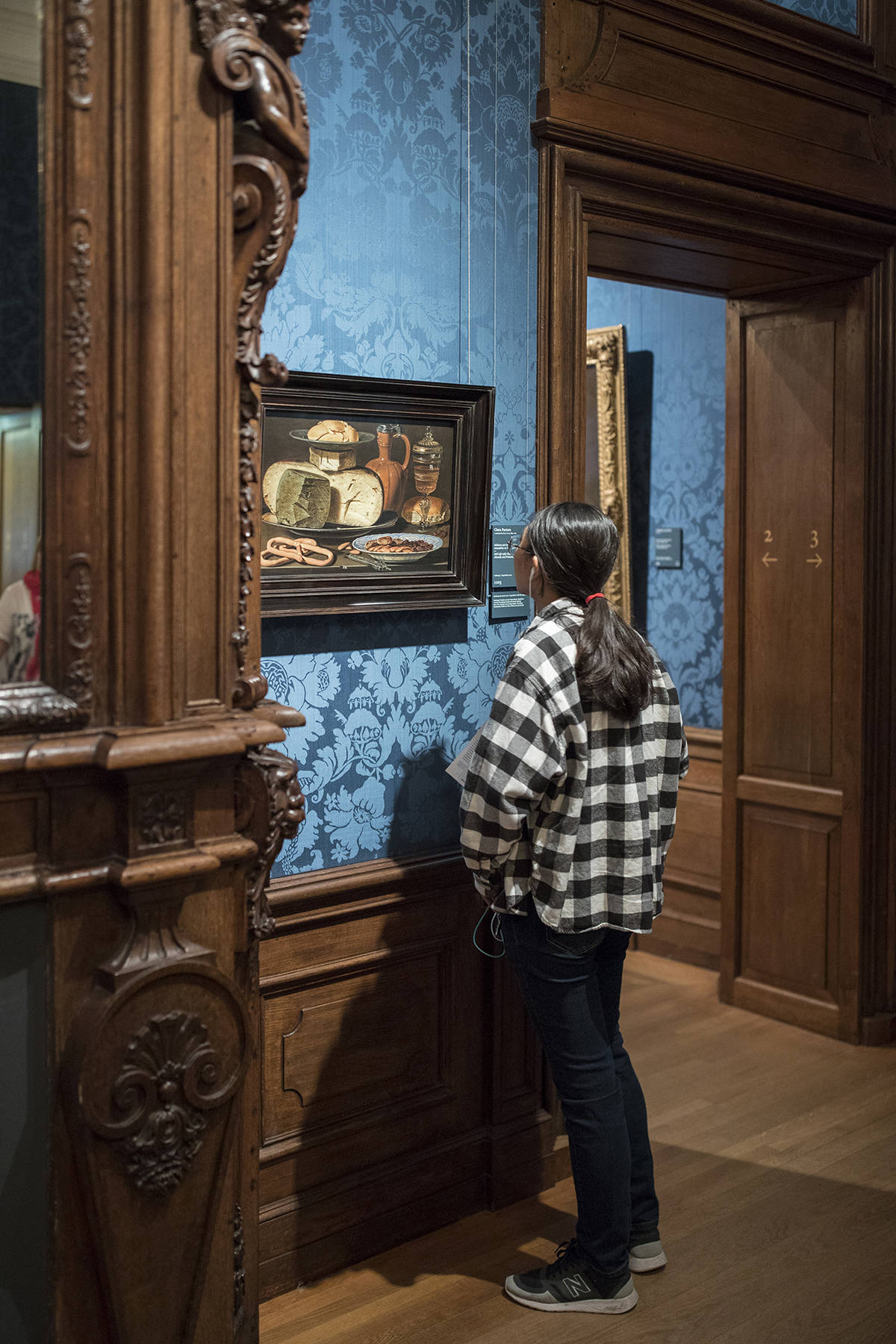 Audio Tour
We also offer a simple audio tour for tour operators. The one-hour tour focuses on the highlights of our rich collection. The audio tour is available free of charge to tour operators and is available in Dutch, English, German, French, Spanish, Italian, Portuguese, Russian, Chinese (Mandarin) and Japanese.
Would you like to book an audio tour? Please make your reservation at least two weeks prior to your visit by sending an email to trade@mauritshuis.nl.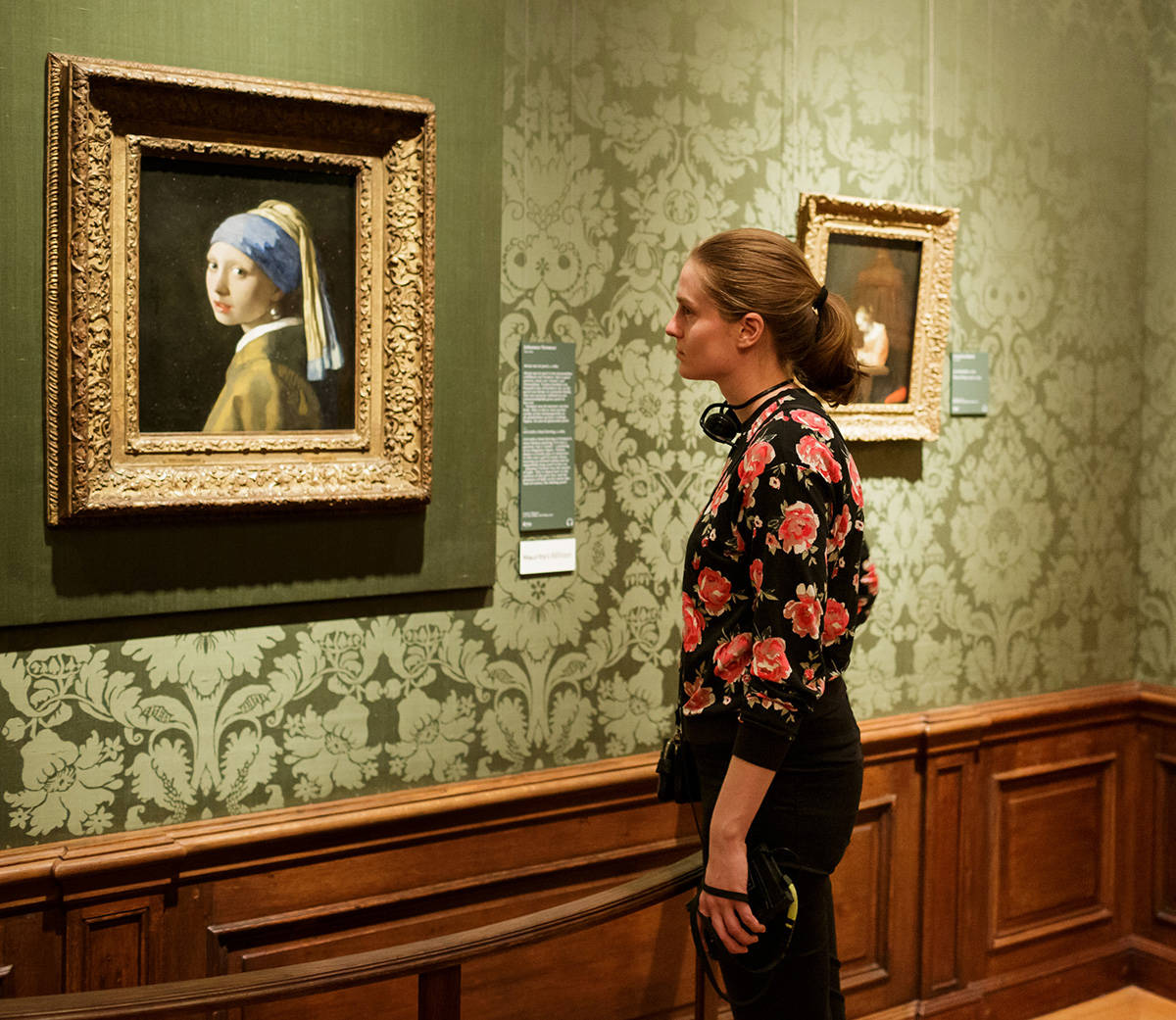 Guided Tours
Unfortunately, due to the Corona measures, it is currently impossible to organise your own guided tours. We hope it will be possible again in the near future.
It is however still possible to book a guided tour for small groups with our own, very experienced tour guides. Or you could enjoy one of our online guided tours.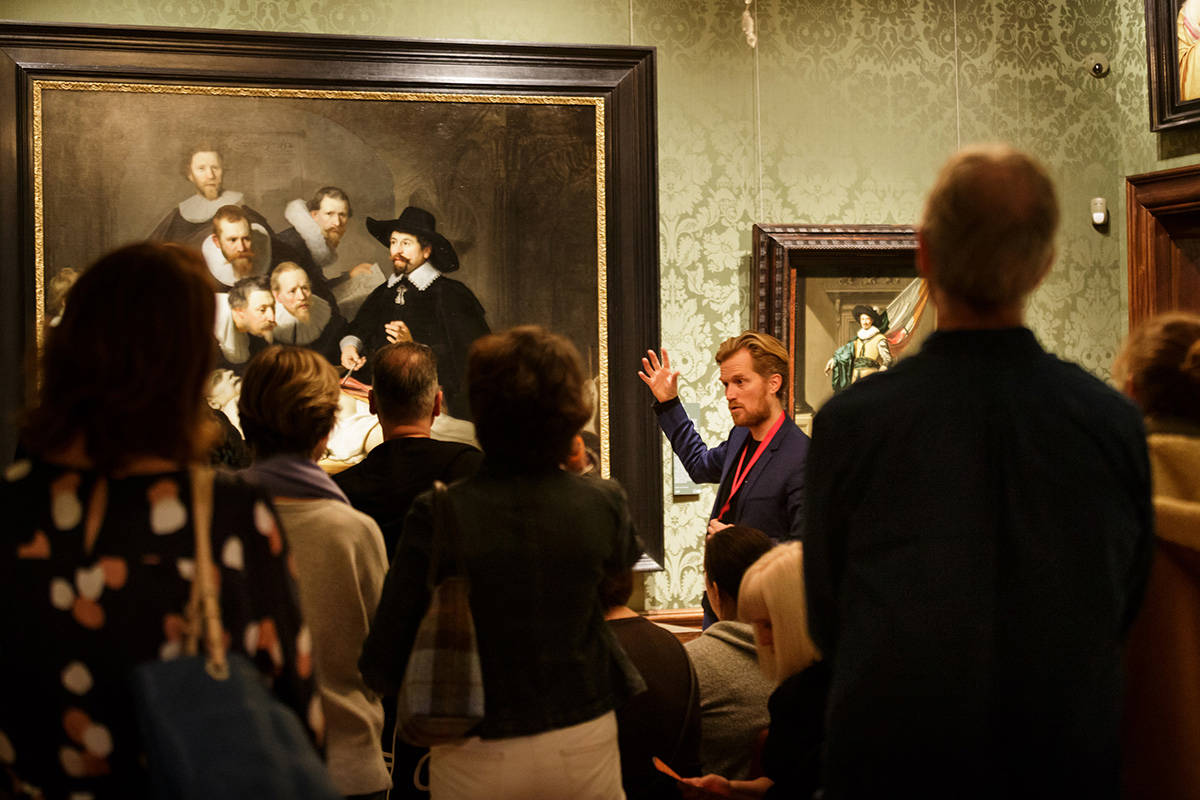 Exclusive Packages
Our exclusive guided tours and small-scale visits are the best way to experience the Mauritshuis collection. Our team of tour guides and experts offers various options to ensure an unforgettable, completely tailor-made experience. This could include, for example, a special museum visit during the day or in the evening. Or you could reserve the entire museum exclusively for one group.
We like to think along with you. Please feel free to contact us at +31(0)70 302 3435 or trade@mauritshuis.nl to find out more about your options for an exclusive visit.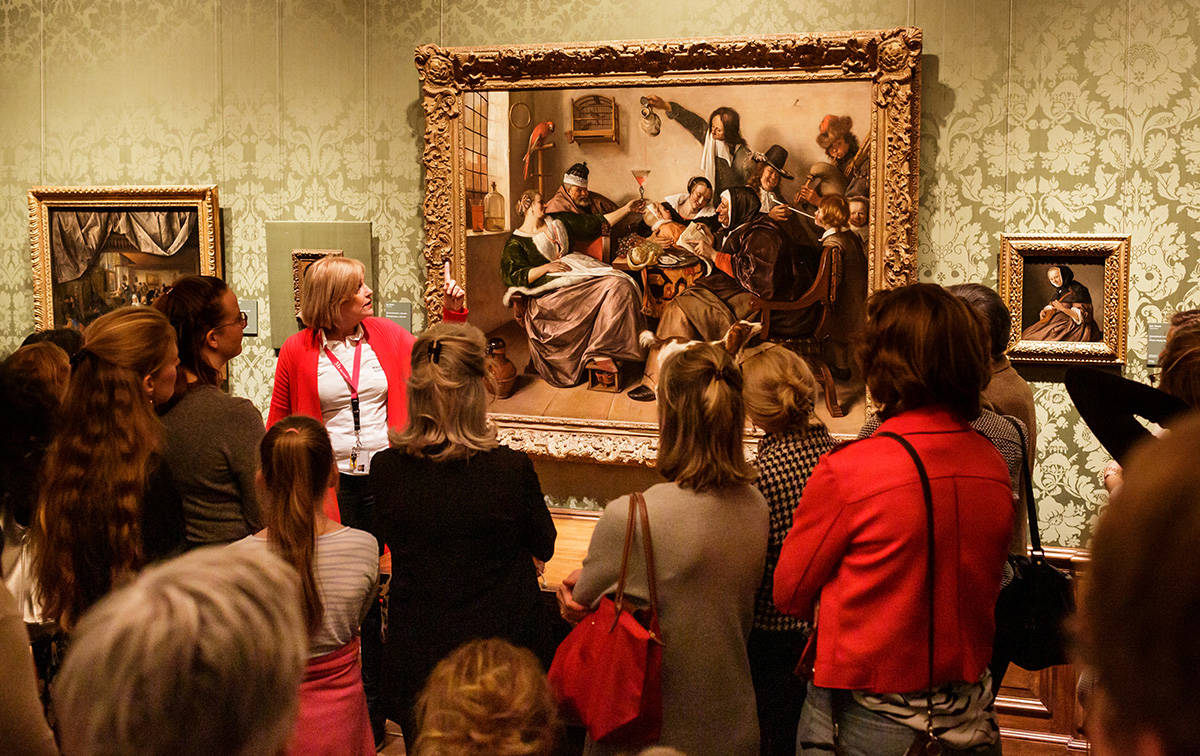 The Hague
The Hague: close to the sea, close to history. The Hague is home to democracy, the royal family and international justice. These ingredients, which make this city so unique, also create the close bond between the past, the present and the future. The Hague radiates a vibrant culture thanks to its countless museums, theme parks, bars and restaurants. In addition, everyone also appreciates the city's long sandy beaches.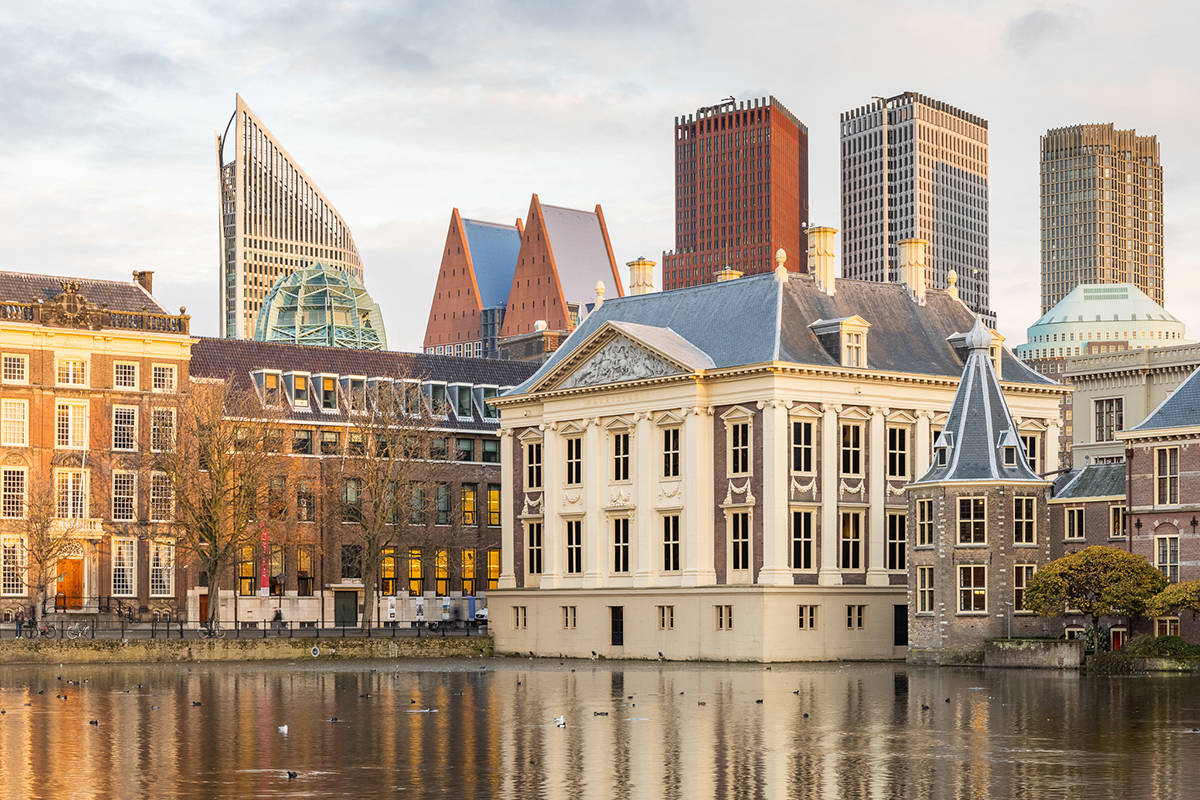 Contact
If you have any questions or need more information, please contact:
Simone Hollen and/or Jacqueline Schraven-de Wit
070 302 3435
06- 2189 5947
trade@mauritshuis.nl