The Hague now has its second Mauritshuis Mural! Inspired by Peter Paul Rubens' Old Woman and Boy with Candles (1616-1617) from the Mauritshuis collection, Julien de Casabianca has created a mural on the Vrederustlaan in the Bouwlust en Vrederust neighbourhood (across the street from the Shalom Church).
''You hardly ever see the beauty of old people depicted in street art, or in public spaces, in any form. This artwork can be seen as a tribute to the universal values of family."
Julien de Casabianca
Visual artist and filmmaker Julien (age 50) has French and Corsican roots. His work always has something to do with street life. Some eight years ago he launched his Outings Project, in which he metaphorically takes paintings out of the museum and onto the street, in order to make art accessible to all, all the time.
De Casabianca receives invitations from museums all over the world wishing to send their art into the outside world, from America to Switzerland and Brussels – and now, of course, the Netherlands. Julien typically makes paste-ups, creating art on paper which is then pasted onto a wall using his own secret-recipe adhesive. This allows him to share his work and his message with the world directly and in great detail, and the resulting artworks last for ten years.

Peter Paul Rubens
Julien took his inspiration from a painting by Peter Paul Rubens, Old Woman and Boy with Candles (1616-1617). He was immediately struck by the painting, and instantly knew what he wanted to do with it. ''You hardly ever see the beauty of old people depicted in street art, or in public spaces, in any form. This artwork can be seen as a tribute to the universal values of family." His 75m2 mural was completed in two days, and was unveiled at a ceremony with local residents.
Peter Paul Rubens' painting depicts an old woman looking into the middle distance as she protects a candle flame with her hand. A boy behind her attempts to light his candle from hers. Rubens was inspired by Caravaggio and his enthralling light-and-dark effects, which also provided inspiration for Julien's design.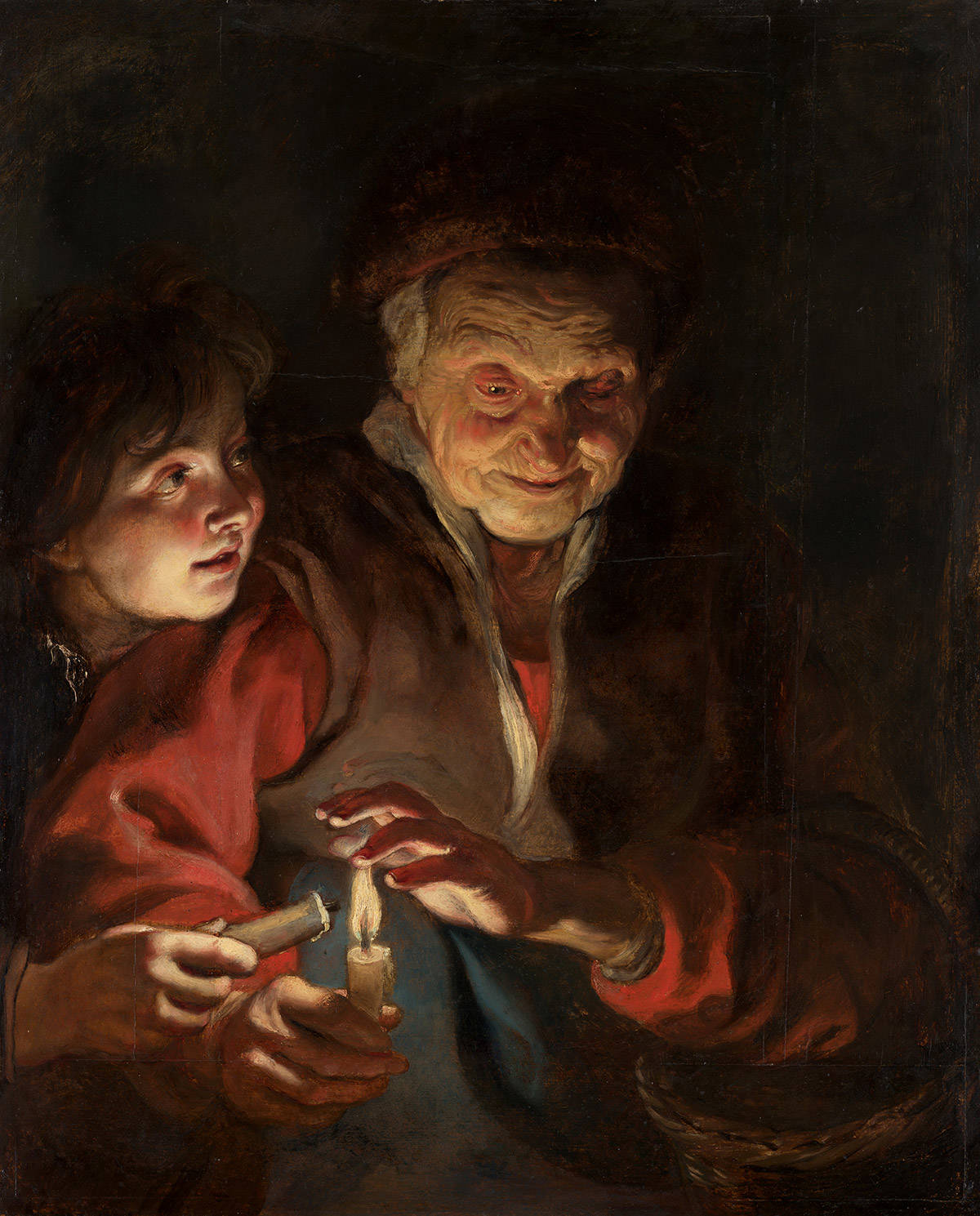 Street art with a difference
Although street art looks best during the day Julien's work is slightly different. His art is even more beautiful after the sun has set. He has installed a solar-powered waterproof lamp that shines directly on the burning candle, making it seem as if the woman's candle is lighting the entire mural.
How does de Casabianca set about creating his work? In this case, he took a photograph of the old woman and boy in Rubens' painting and removed the background. He then printed the figures on paper. To him, this paste-up is like a tribute honouring universal family values.

The Bouwlust en Vrederust neighbourhood
Welcome to Bouwlust en Vrederust! The second Mauritshuis Mural was officially unveiled on Friday 29 July, in a celebratory event at number 98 Vrederustlaan, which included music and activities for young and old.
The Bouwlust en Vrederust neighbourhood is on the outskirts of The Hague, close to several large, green recreational areas. It has many small low-rise apartments with communal gardens. The abundance of greenery and many facilities for residents are what makes this neighbourhood so unique. They include the Uithof, an ideal place to walk, go mountain biking, horseriding, ice skating, climbing and much more – all within walking distance. From the Uithof it is just a short walk to Madestein, the 350-year-old Ockenburg Estate and, if you're a really keen walker, you can continue as far as the dunes and the beach at Kijkduin.
Partners
The Hague Street Art
The Mauritshuis Murals project is a collaboration between the Mauristhuis and The Hague Street Art (THSA), part of Stichting AIGHT. THSA is Stichting Aight's platform providing support for everything to do with Street Art in The Hague and the surrounding area. THSA facilitates art in public spaces, professionalising and showcasing young artists in order to prevent vandalism.
Staedion
Housing association Staedion owns one in every seven homes in The Hague, renting out over 37,000 homes and 6500 other premises such as shops, commercial offices and car parks in the Haaglanden region. Staedion offers affordable housing for people in a vulnerable position on the housing market, with a focus on quality and safety. Our mission is to rent affordable homes to people unable to obtain accommodation themselves, in neighbourhoods with a good quality of life. We cannot achieve this alone, but work with our residents and our partners in the community to provide a pleasant living environment for all.
Acknowledgements
Mauritshuis Murals is sponsored by The Hague City Council, Nationale-Nederlanden and Stichting Droom en Daad.